From Kapolei Hurricanes To Annapolis
Wednesday - December 20, 2006
By Jack Danilewicz
E-mail this story | Print this page | Comments (0) | Archive | RSS
|
Share

Del.icio.us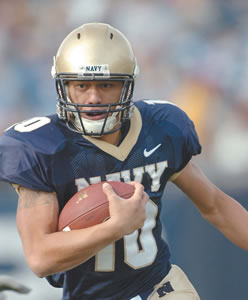 Kaipo-Noa Kaheaku-Enhada is the Naval
Academy's starting quarterback. Photo
courtesy of the Naval Academy.
For Kaipo-Noa Kaheaku-Enhada, the pressure of preparing to face a nationally ranked Notre Dame team on the football field didn't even measure up in the degree-of-difficulty department to what he'd already experienced in the classroom during the week at the Naval Academy.
"Academically, it's tough here," said Kaheaku-Enhada, a former Kapolei stand-out who is now Navy's starting quarterback. "It's very structured and disciplined, but at the same time I'm also enjoying it. The discipline is something I needed personally.Back home,I was always surfing and doing my own thing. I wanted (to be a part of) something that would change my life. Coming here was the best thing for me."
The special relationship football players have always had with their fellow students at the academy is tied to the work ethic that prevails for all on the Annapolis, Md., campus.
"Monday through Friday, every student wakes up at 6:30 in the morning,"KaheakuEnhada said. "At 7, we are in formation so that they can take roll and make sure everyone is there. Then we have breakfast. Classes begin at 7:45 and go until 11:45. Then we have lunch. The football team eats together,and we'll usually have meetings (as a team). From 1:30 to 3:30 we're in class again.At 4:15 we begin practice,which ends at 6:30.We have dinner at 7 and then study hall from 8 to 10. Lights out is at 11."
If you're scoring at home, moments of free time are few. Indeed, if anything, the Naval Academy is a place where football is clearly kept in perspective, but the Midshipmen know a thing or two about winning football games, too. Under head coach Paul Johnson, who was an assistant coach at Hawaii in the early '90s, Navy will play in its fourth consecutive bowl game on Dec. 30 (8 a.m.,ESPN),when the Middies meet Boston College in the Meineke Car Care Bowl in Charlotte, N.C. During that span, Navy has run its record to 8-0 against the other service academies, culminating with a 26-14 win over rival Army on Dec. 1, the Midshipmen's fifth straight against the Black Knights.Only final exams the following week could disrupt the celebration of the win over Army, to hear Kaheaku-Enhada tell it.
"I really enjoyed playing that game,"he said."It's always a big game because that's all that's been beaten into us when we came here - to beat Army. It was such an emotional game for our seniors. Everyone's so close here. We're like a family. We play for each other."
In the week leading up to the Army-Navy game, football takes on added significance on both campuses.If ever there's a time of leniency, it is then, according to KaheakuEnhada.
"The plebes (freshmen) run around that week and pull a lot of pranks,"he said."You think of it,and it happens here that week.It's a great time to be at the academy. We had a pep rally and a bonfire on the Wednesday before the game,and the following day we took a two-anda-half hour bus trip to Philadelphia for the game."
With success comes higher expectations. Navy's recent run of four straight Bowl-eligible seasons has the Navy student body expecting nothing less than victory on football Saturdays.
"We're getting used to it (winning) now," said Kaheaku-Enhada, who is a sophomore."A lot of people here aren't used to losing, and they kind of get mad when we do."
Kaheaku-Enhada more than held up his own end of the bargain against Army, running for a team-best 74 yards on 15 carries to lift the Navy offense in the win. He had made his first start at quarterback (he has also played wide receiver at Navy) against Notre Dame on national television and had an immediate impact, scoring both Navy touchdowns, although the Midshipmen lost 38-14 to the Sugar Bowl-bound Fighting Irish.
"It was a fun game (vs. Notre Dame)," Kaheaku-Enhada said. "Notre Dame is a top 10 team, so I had nothing to lose. I just went out and played the game I love."
Since the loss to Notre Dame, Kaheaku-Enhada has guided Navy to four straight wins. He's rushed for 556 yards and 10 touchdowns to date this season, while throwing for 307 yards and three scores. Despite those numbers, however, Kaheaku-Enhada admits he has a sense of urgency with every snap he takes.
"Here in college, you have to perform and execute every day,"he said. "There's always (playing) behind you that can get the job done. It's different in high school. If you're having a bad game, you're having a bad game."
Back at Kapolei, where he played under Darren Hernandez,KaheakuEnhada was a threat to score every time he touched the ball, which was often. He played every skilled position at Kapolei and accounted for much of the Hurricanes' kicking game.Running the Hurricanes'run-oriented offense at that time served him well to play for Navy, which is consistently among the nation's leaders in rushing offense under Johnson.
Against Army, in fact, the Midshipmen threw mainly out of necessity, eventually wearing down the Black Knights with three fourth-quarter scores.
"I love playing for Coach Johnson," Kaheaku-Enhada said. "He's a great coach, especially when it comes to running an offense. Coach just loves to the run the ball, and we've been running it well lately."
For all the great coaches he's played under, Kaheaku-Enhada didn't have to leave the house to find a role model to follow.
"A lot of people have influenced me,but my parents have molded me into the person I am," KaheakuEnhada said. "I was glad that my father was able to come to the Army-Navy game."
When his time at the academy runs its course,Kaheaku-Enhada will serve his country for four years.
"I'm either going to go into the Marine Corps or the Navy,"he said. "Right now, I'm leaning toward Marine-Air."
Wherever he should serve,he's figures to make sure he finds a way to have a little "local food." With the noticeable absence of plate lunch spots in Annapolis, he leaves nothing to chance."One thing I do have is a rice pot and Spam," he said.
Not to mention a very bright future.
Most Recent Comment(s):