Galiza Builds Himself A Bright Future
Wednesday - June 27, 2007
By Kerry Miller
E-mail this story | Print this page | Comments (0) | Archive | RSS
|
Share

Del.icio.us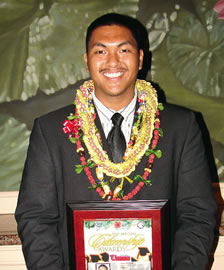 Jester Galiza, Campbell High School
valedictorian and winner of the Drive
Your Future Mercedes-Benz Scholarship,
stands with one of his many awards.
Photo from Jester Galiza.
Students graduating from high school might not put much thought into planning the future,beyond spending the summer with friends.
Campbell High's class valedictorian Jester Galiza may have plans to spend time with friends, but he certainly isn't short on plans for his future.
Galiza is one of 62 college-bound teens throughout the nation to receive the Drive Your Future: Mercedes-Benz Scholarship.The scholarship went to students who are the first member of their families to go to college. Other considerations included outstanding academic performance, strong community involvement and financial need.
Galiza's parents emigrated from the Philippines to the United States with no high school education and could not speak English. The couple worked two jobs each to support their family of eight. Galiza was often left to make do for himself while growing up. As a result, his independent nature grew and made him realize that to make it through life and be successful, he'd have to work hard on his own.
"Winning the Drive Your Future Mercedes-Benz Scholarship was one of my proudest accomplishments because I knew how extremely competitive it was," said the Ewa Beach resident.
"I prepared for the ominous rejection letter in the mail - however, when I discovered that I received the scholarship, I was extremely flabbergasted but at the same time really proud of this accomplishment. This opened so many doors for me, and it convinced me that I had the potential to accomplish great things if I continued to dream big."
Galiza and the other scholarship recipients will receive $10,000 ($2,500 each year for four years) toward college tuition. In the fall, Galiza will attend Dartmouth College in Hanover, N.H., where he will follow a pre-medicine path by majoring in biology.
"I plan to go to medical school to become a physician in emergency medicine,"explained Galiza."I also want to continue my service to the community by establishing a foundation whose ultimate purpose is to bridge a divide between the community and medical work force.This foundation would include sub programs such as scholarship funds,free clinics and volunteer stations."
Community involvement is nothing new for Galiza. Throughout his high school days, Galiza enjoyed reaching out to those around him through his time as a site-based program mentor with Big Brothers Big Sisters of Honolulu, and through volunteer work with Adopt-A-Block, the Great Aloha Run and the Taste of Kapolei.
At Campbell High, Galiza was class president, National Honor Society president, parliamentarian for the Health Occupations Students of America and varsity volleyball co-captain.
His big heart and strong academic discipline earned him a number of awards. He was recognized by Who's Who Among American High School Students, and he was named Big Brothers Big Sisters of Honolulu's Big Brother of the Year, James Campbell High School's Most Outstanding Athlete and Hawaii State Science and Engineering Fair Hawaii Aquascience Association Award winner.And that's only a partial list of the honors he has received.
"Drive Your Future winners, such as Jester, are among the best and the brightest of their generation,"said Ernst Lieb, president and CEO of Mercedes-Benz USA in a prepared statement."We hope this scholarship helps remove any financial impediments that young men like Jester face today with higher education and allows him to focus on accomplishing his dreams."
Most Recent Comment(s):