'Gallery' Has A Heart For Foster Kids

Wednesday - November 08, 2006
By
.(JavaScript must be enabled to view this email address)
E-mail this story | Print this page | Comments (0) | Archive | RSS
|
Share

Del.icio.us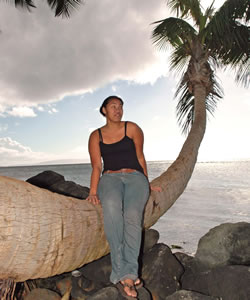 Oui is one of the many youths in Hawaii's foster
care system whose photo will be on display
Nov. 18 by Heart Gallery Hawaii at Pearlridge
Center, in an effort to secure her monetary help
and, hopefully, a mentor or hanai family. Photo
by Darlene Munn.
The Hawaii chapter of Heart Gallery will be displaying photos of Hawaii's foster children at Pearlridge Center from 9 a.m. to 8 p.m. Nov. 18.
The event is a National Adoption Awareness Month celebration and is aimed at bringing notice to the 2,500 foster children currently in the state system and to encourage area families to consider adoption. Lending their support at the event will be Lt.Gov.Duke Aiona and Mayor Mufi Hannemann as well as other public and non-profit leaders. Foster parents and children also will be in attendance.
"I tried to pick a venue where the kids will feel they are being treated with respect,"said David Louis, founder and director of Heart Gallery Hawaii."Pearlridge Center is gorgeous, and the traffic that goes through there is incredible. It also happens to be the day the train is being opened."
The Christmas train will be up and running,and the foster children will have a chance to enjoy free rides on the train.
A former foster child himself, Louis is intimately familiar with the world of foster care. When he "aged out" of the system at 18, he found his way to Hawaii where he has worked as a counselor in schools and social care facilities throughout the island for the past 10 years.
"The majority of our kids in care are from West Oahu,"said Louis."There are five permanency (foster care) units on the island. I have a master list, and a huge bulk of the kids that are waiting to be adopted are from Pearl City or Ewa Beach."
Louis attributes the geographical concentration to two things:"The reason the children are in those (West Oahu) units is because they come from that neighborhood. Another reason most of the kids are in that area is that some of the people with the biggest hearts are over on the West side."
Louis is referring to the foster families living on the West side,who care for the children rotating through the state system.
Most families looking to adopt want babies or children under 4 years old explained Louis. The 6-to 18-year-olds have a much more difficult time finding a family to call their own.
"Every time I look at this list of children and see their names and ages and contact them and hear their story, it is pretty heart-wrenching,"he said."With the Heart Gallery, at the very least, we can let more people know, and hopefully a few more families will come in and a few more donations will come in.
"There are so many ways people can help - adoption, mentoring, donations and spreading awareness about these children. Heart Gallery Hawaii could also use wall space or ad space."To offer help, call 295-1929.
Louis has managed his operation out of his own pocket. Proceeds from his upcoming book may soon give Heart Gallery Hawaii some additional funding. Scars That Can Heal details his experience in the foster system; it will debut Nov. 18 at Pearlridge.It will also be available online at www.booklocker.com
Most Recent Comment(s):