Garden Center Sprouts 540 Mahalo Gifts

Wednesday - February 17, 2010
By
.(JavaScript must be enabled to view this email address)
E-mail this story | Print this page | Comments (0) | Archive | RSS
|
Share

Del.icio.us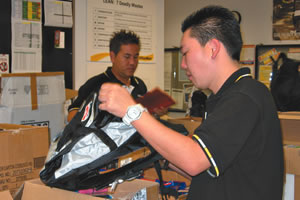 Scott Takeya (left) and Scotty Fernandez fill backpacks for military keiki at the Office Max/Hopaco warehouse in Waipio. Photo by Erin Nakatsuka.
During Martin Luther King Day last month, Office Max employees not only honored the civil rights hero but also those currently serving in the U.S. armed forces by assembling 540 "Hero Packs" as a part of Operation: Military Kids.
They met at the Urban Garden Center in Pearl City to assemble letters of support and thanks to military children as well as journals, deployment calendars and school supplies. The letters were from Hawaii children and, while the Hero Packs' core items came from the national OMK, Office Max paid for additional items.
"We had about 30 people with OMK team members and Office Max employees combined filling the packs," said Claire Nakatsuka, 4-H Club extension educator and OMK member. "We also have members from each branch of service on our team, not only active duty but reserve and guard as well, so we're very well-rounded."
Hero Packs will be given to children of deployed Hawaii guard and reserve soldiers and will be distributed at military events.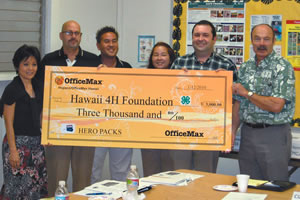 Hawaii 4-H Military liaison Claire Nakatsuka (far left, below) and state 4-H program leader Gary Heusel (far right) present $3,000 to (from left) Michael Mochizuki, Scotty Fernandez, Kelsie Imai and Kevin Pope at a recent Operation: Military Kids team meeting. Photo by Byron Lee,

.(JavaScript must be enabled to view this email address)

.
OMK is the U.S. Army's collaborative effort with civilian communities to support the children and youths affected by deployments each year. Officially launched in April 2005, the initiative has touched the lives of more than 65,000 youths and provided information to more than 7,200 residents across the nation. Locally, OMK meets every other month at Urban Garden Center (the next meeting is in March).
Hawaii is one of 42 states participating in OMK, which has six components: babysitting workshops, Speak Out for Military Kids, The Mobile Technology Lab, Youth Focused Programs, Hero Packs and Ready, Set, Go!, a training program to understand military culture and the deployment cycle and meet the kids' needs.
For more information or to donate, call 956-7196 or visit www.operationmilitarykids.org.
Most Recent Comment(s):