Ghastly Cast Raises Spirits, $$ For HPV

Wednesday - October 06, 2010
By
.(JavaScript must be enabled to view this email address)
E-mail this story | Print this page | Comments (0) | Archive | RSS
|
Share

Del.icio.us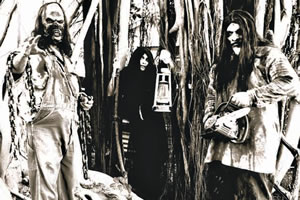 Freaks and spooks of all sorts roam Hawaii's Plantation Village this month, with a portion of ticket sales going to benefit the Waipahu cultural museum. Photo by Stephen Patrick.
Waipahu's fifth annual Haunted Plantation promises to be Hawaii's biggest scream-fest this Halloween season.
For eight fright-filled nights - Oct. 15-16, 22-24 and 29-31 - folks 13 years of age and older can roam the village to encounter an assortment of vengeful spirits and, as legend has it, perhaps some that are real.
"There have been numerous cases of cars crashing into the fence of the plantation village due to sightings of obake," said Noa Boss, founder and organizer of the Haunted Plantation. "(Drivers) see children crossing the street and then vanishing; or there's the white lady who stands on the side of the road, and if you don't pick her up she'll either run and catch up to the car or cling onto the car when you pass by, or be in your back seat."
In case poltergeists aren't doing enough to frighten guests, the Waipahu museum park has been rigged with creepy sounds and special effects to give the ultimate horror experience. Also walking the grounds will be nearly 50 professional bogeymen, many of whom also have haunted some of the nation's most frightening attractions like Spooky World in New Hampshire or Knott's Scary Farm and Universal Studios' Halloween Horror Nights in California.
According to Boss, unearthly phenomena have even scared the professionals out of a job.
"During our haunted house some spirits actually scared some of our actors into not showing up for work," noted Boss. "There are numerous cases and sightings that occur inside of the plantation even during daytime tours, such as a little girl who tugs on tourists' hair, the window curtains going up and down, and footsteps in the houses."
HPV visitors have been known to quit the tour and flee in sheer terror, while others cry ... or worse.
"Our haunt was so scary for this 17-year-old teenager that she actually soiled her pants," said Boss. "There's been a few people throughout the years who pee'd in their pants."
The village and its restrooms are open for chills and thrills from 7 to 11:30 p.m., rain or shine.
Cost is $10 general admission, $15 for a FastPass. A portion of the proceeds benefits HPV to further its mission of celebrating and preserving Hawaii's cultural history.
For details, visit hawaiihauntedplantation.com or call 677-0110.
Most Recent Comment(s):