Girl Scouts Give Supplies, Cookies To CFS

Wednesday - May 26, 2010
By
.(JavaScript must be enabled to view this email address)
E-mail this story | Print this page | Comments (0) | Archive | RSS
|
Share

Del.icio.us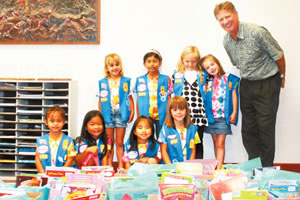 Girl Scouts Kecia Costa (front, from left), Phyness Pickett, Madison Hwang, Jordon Franken, (back) Kylee Sheets, Makaila Natividad, Riley Weaver and Madilyn Clarke present boxes full of school supplies and Girl Scout cookies to Child & Family Service president Howard Garvel May 13 as a way to give back to keiki at the shelter. Photo courtesy Child & Family Service.
Girl Scout Daisy Troop 155 of Ewa Beach presented a generous donation to Child & Family Service on May 13 as part of its recycle program.
The 10-member troop of girls ages 5 to 7 constructed 20 boxes out of old Girl Scout cookie cases and filled them with school supplies, crafts, books, gift cards and, of course, Girl Scout cookies.
"Some of the books the girls themselves donated from their own collections," noted troop leader Nina Pickett, adding that approximately $720 worth of educational materials, gift cards and extras were donated to the local nonprofit.
"I was thrilled to see such young philanthropists when the Girl Scouts visited our Ewa campus and delivered gift boxes for children in our domestic abuse shelters," said Howard Garvel, president and CEO of CFS. "Each girl decorated her gift box and card that was inside. We are so grateful to these young girls and their parents for their generous donations."
According to Pickett, the girls used their cookie proceeds to fund the entire operation, as the young group is always looking for ways to help others.
"They are eager to please, and their care and concern for others is a top priority for them," she said of the girls, currently in kindergarten and first grade. "Being unselfish and aware of unfortunate circumstances within our community is what we focus on.
"They wanted to give back to the children of their community," she added. "They felt it was important to share with others who may not have as much as they are fortunate to have. Mostly, they just wanted to bring simple joy to another child's life."
Most Recent Comment(s):