Got Milk Cartons? Try Build A Boat
Wednesday - May 27, 2009
By Kerry Miller
E-mail this story | Print this page | Comments (0) | Archive | RSS
|
Share

Del.icio.us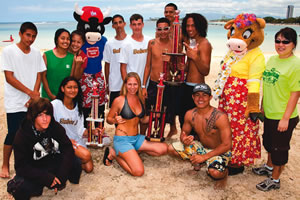 Campbell High School team members (left) clench their first- and second-place honors in the High School Division of the 13th annual Meadow Gold Milk Carton Regatta May 2 at Ala Moana Beach Park. Below, students from the Kapolei Middle School team paddle to the finish line at Magic Island. Photos courtesy of Communications Pacific.
Equipped with nothing but oars and boats made of half-gallon milk cartons, glue and tape, Kapolei Middle and Campbell High schools paddled their way to victory at the 13th annual Meadow Gold Dairies of Hawaii Milk Carton Regatta.
Teams from several Oahu schools spent May 2 along the Magic Island shoreline at Ala Moana Beach Park, where Kapolei took first place in the Middle School Division and Campbell teams placed first and second in the High School Division. Winners received Lani Moo trophies, gift certificates and other prizes.
Meadow Gold Dairies provided the materials to all participating schools, and the only requirement - aside from the fact students could only use the supplied cartons, glue and tape to make the boats - was that the boats have room for two paddlers. Maude Tanaka, the regatta's program coordinator, explained that students apply classroom lessons such as math, science and industrial arts when building and designing their boats.
"They have to do a display presentation that talks about how they came up with their design. That's part of the activity as well," explained Tanaka, adding that there also are academic competitions that allow students with different strengths to participate.
"It's not just the student-paddlers that have all the fun. You have different categories where you can get different students involved.
"One is the Most-Creative Boat competition, (and because) the Display competition is judged by engineers, they can actually look and get technical, if you will," she explained.
She adds that after conducting post-regatta evaluations with teachers, 99 percent of them believe this activity works into their curriculum, gets their students involved in what they learn in school and applies it to making the boats.
"(It's) teamwork and the camaraderie that this regatta brings to the table," Tanaka stressed. "They have to work as a team to get their end product, which is the boat."
In addition to winning the their division, Kapolei also took home the School Spirit and the Health and Environmental Workshop awards. Campbell won the Most-Creative Boat Award.
After the school teams came out of the water, races were conducted among the teachers and media celebrities. It would prove to be another feather in the Sabers' cap, with Campbell teachers taking first in the High School Teacher Division and the first and second-place celebrity teams (KGMB9 and MidWeek, respectively) sailing to victory on a Campbell craft. Other celebrity race teams were from KHON2 and KITV4.
But to hear Tanaka tell it, everyone on the beach that day turned up a winner.
"It's an activity that you get to go to the beach and you get drinks, we get pizza and they get competitive."
For more details about Meadow Gold Dairies and the annual Milk Carton Regatta visit www.lanimoo.com.
Most Recent Comment(s):