Grimes A Real Breath Of Fresh Air
Wednesday - June 25, 2008
By Kerry Miller
E-mail this story | Print this page | Comments (0) | Archive | RSS
|
Share

Del.icio.us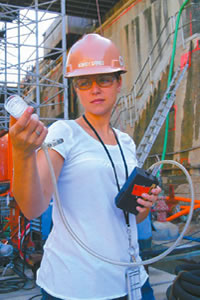 Occupational safety and health specialist Aubrey Grimes makes sure the air quality at Pearl Harbor Shipyard is up to par. Photo by Marshall Fukuki.
Pearl City resident Aubrey Grimes was rewarded recently for her hard work as a shipyard occupational safety and health specialist at Pearl Harbor.
Grimes received the 2008 John J. Bloomfield Award earlier this month. The American Conference of Governmental Industrial Hygienists (ACGIH) gives this award to an up-and-coming industrial hygienist who has made significant contributions to the profession by pursuing occupational health hazards primarily through field work.
"It was exciting," said Grimes, who recently returned from the ACGIH conference in Minneapolis, where she was presented with the award."It was a small ceremony, (about) 50 people."
So, what exactly does an industrial hygienist do?
At certain times during the day, Grimes takes air samples at different job sites throughout the shipyard. She then sends the air samples to a laboratory, and results determine what sorts of things in the air workers could be exposed to.
A key factor, Grimes said, is to make sure the air quality com-plies with Occupational Safety and Health Administration (OSHA) federal regulations.
The New Market, N.H., native earned her degree in safety from Keene State College in Keene, N.H.
She was the first college student to intern as an OSH specialist in the safety office at the Portsmouth Naval Shipyard in Portsmouth, N.H. Grimes was later hired as a civilian worker at Portsmouth full-time in 2004 and worked there until December 2006, when she left to transfer to Pearl Harbor.
Most Recent Comment(s):