Group Fights For Program To Stay In Flight

Wednesday - October 28, 2009
By
.(JavaScript must be enabled to view this email address)
E-mail this story | Print this page | Comments (0) | Archive | RSS
|
Share

Del.icio.us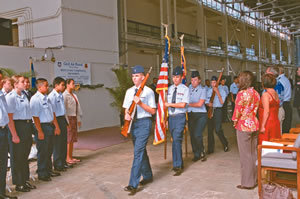 The West Oahu Civil Air Patrol Squadron color guard makes a presentation for cadets and their families during the grand opening of the flight program in 2006. Photo from Wesley Kajiwara.
The long arm of the law recently dealt a devastating blow to Hawaii Wing Civil Air Patrol's West Oahu Composite Squadron, ordering the group to cease all CAP activities at Honolulu Community College's flight school facility at Kalaeloa due to usage agreement technicalities.
The group stands to be evicted from the site on Nov. 1 but has requested an extension through December, allowing time to resolve the matter and save the program. As of press time, it was unknown if a response will be received.
CAP is a nonprofit organization that supports the state of Hawaii's Civil Defense and Homeland Security and participates in a number of emergency service missions. Through its cadet program, youths ages 12 to 18 are instructed in leadership, responsibility, discipline and safety, as well as aerospace education.
Its West Oahu Squadron meets at HCC's hangar from 8:30 to 11:30 a.m. Saturdays, when the facility is not in use by the flight school. Unfortunately, due to a mandate from the U.S. Department of Education, the group is now fighting eviction and seeking alternatives should the issue not be resolved. As it stands, the current agreement allows only HCC flight school operations at Kalaeloa, thereby eliminating CAP cadet activities in the facility.
"Here we have a youth program that is self-sufficient, successful, growing and impeding upon no one,"said Ewa Neighborhood Board member and legislative committee chairman Tom Berg.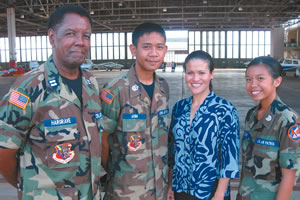 Cmdr. Rich Hargrave (left) with 1st Sgt. Cadet John Henry Ashing, state Rep. Kymberly Pine and Tech. Sgt. Cadet Rosebel Belong in the flight school hangar at Kalaeloa. Photo from Tom Berg.
"Thankfully we have community advocates who know what a jewel of a program CAP is and will stand strong with them to preserve and perpetuate this valuable program. I have already requested that the neighborhood board discuss the issue at its next meeting on Nov. 12."
State Rep. Kymberly Pine also has joined the effort to save the CAP program and said that the DOE letter was completely unexpected.
"The order to shut down the CAP operation at HCC was really a shock to everyone," Pine said."What we're trying to do is get the language changed to include organizations like CAP's West Oahu squadron in the HCC facility's usage guidelines.
"It just stinks because sometimes the government kills really good programs because of minor stipulations like that," she added. "It's ironic because CAP is a great example of taxpayer money not going to waste since the facility is being used when the flight school classes aren't in session."
West Oahu Composite Squadron was originally established as a Cadet Flight Program with three cadets on Sept.27,2006.The unit quickly expanded to include five senior members, thereby enabling the "flight"to become a "composite"squadron.Today there are 50 cadets and 20 senior members, and Squadron Cmdr. Rich Hargrave expects that number to double within the next six months.
"West Oahu Squadron receives one or two new prospective cadets almost every week," Hargrave said, noting that during the week of this interview (Oct. 19-23) they had four new cadets join.
"With this type of growth, I would prefer to continue operations in the HCC facility. The parents have recognized this location as a safe and secure environment where their kids learn skills that will last them a lifetime."
Instead of hitting the beach or cruising the streets, CAP cadets spend their Saturdays learning courage, discipline, leadership,self-esteem,respect, community service and other values core to public and civil service. Cadets also get to fly Cessna 172s and 182s and gliders through the program, exposing them to aviation-related positions with the military or the civilian sector in the future.
"The focus from the beginning has been and will continue to be to attract youths from Waianae to Waipahu," Hargrave added."Many of our cadets are from Kapolei Middle and High schools, Ilima Middle School and Campbell High School. We also have received a number of cadets from all over the island, including Kaneohe, Kailua and Central Oahu. We credit our growth to the ease of access and the structure of our cadet program."
Pine urges anyone involved with the DOE/BOE who could help move the effort along to contact her office or Cmdr.Hargrave.Donations to CAP also are greatly appreciated,and letters of support and petition to the HCC chancellor and CAP also have the potential to help.
"So many lives have been changed thanks to this program. It needs to keep going," Pine said."Anytime that we as citizens can help our youths to have a better future, that's a great cause for us to be a part of."
Despite the pending eviction, the squadron is continuing its plans for a second annual Squadron Awards Program, scheduled for 5:30 p.m. Nov. 7 at Sam Snead's Tavern in Navy-Marine Club House (943 Valkenburgh St. on Hickam Air Force Base). The event is open to the public and costs $35 for adults and $30 for those ages 18 and under. RSVP is required by Nov. 1 to 2nd Lt. Marty Flynn (561-9668).
For more information,contact Pine's office at 586-9730, Hargrave at 234-8016, or visit the squadron Web site at http://hiwg.cap.gov/westoahu.
For further insight, watch the CAP YouTube video at http://www.youtube.com/watch?v-Qtp5HgZURK0.
Most Recent Comment(s):