HARC Plans An Ag Complex For Kunia

Wednesday - June 23, 2010
By
.(JavaScript must be enabled to view this email address)
E-mail this story | Print this page | Comments (0) | Archive | RSS
|
Share

Del.icio.us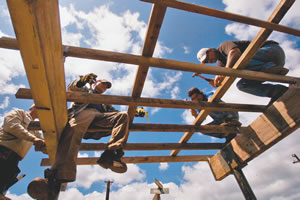 Cisco Bareng, Joe Bareng and Elmer Espiritu build one of two new school bus stops at the former Del Monte property in Kunia. Photo by Byron Lee.
Hawaii Agriculture Research Center, which expanded its lab and field operations in West Oahu last year, has officially acquired the 119-acre Kunia Plantation Village property from James Campbell Co.
It's located off Kunia Road about six miles north of its new field station, which opened last year across from Kunia Shopping Center.
The move gives Oahu a new site for processing agricultural products mixed with affordable housing. The nonprofit agency has its office there but will retain the 115 village rental homes and its rural heritage.
"We envision an ag complex for supportive businesses with long-term leases,"said Stephanie Whalen, HARC's president and research director. Some long-term lessees already are on board, including Takenaka Nurseries, which donated hundreds of palm trees and ti leaf seeds to HARC's community service day on May 29.
Villagers, HARC staff and workers from 24 companies all pitched in that day to plant the trees and seeds, paint the gym's interior and erect two school bus stops for village students, Whalen said.
"We're applying for a grant to fix up the homes and facilities," she added."They're so old and not maintained."But she points out the land's main purpose is "infrastructure support for ag needs."
HARC was granted a zoning variance on the Ag 1 parcel which will permit agribusiness use as well as the rental units and other non-conforming buildings - the old gym and schoolhouse, post office and scattered warehouses from the Del Monte pineapple era. (The last harvest was in 2008.)
The internationally recognized HARC specializes in horticultural crop research, training and problem-solving for Hawaii's farmers as well as global ag industries.
Most Recent Comment(s):