Helping The Disabled Go To The Beach
Wednesday - May 02, 2007
By Kerry Miller
E-mail this story | Print this page | Comments (0) | Archive | RSS
|
Share

Del.icio.us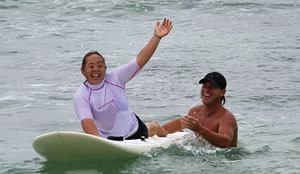 Kayla Adams goes surfing with the help of Mark Marble
(right) and his AccesSurf program. Photo courtesy of
AccesSurf Hawaii.
For anyone whose desire to swim, surf or just relax on the beach has been hampered by a disability, AccesSurf Hawaii can help.
Founded in March 2006 by Mark Marble (he's also the president), AccesSurf Hawaii is a non-profit organization that makes the beach accessible to people with disabilities and enables them to have fun on the sand or in the water at White Plains Beach in Kalaeloa.
"It's a wonderful program," said Marble. "Hundreds of people are finding out, coming out to us, saying 'I haven't been in the water for 22 years.' It's so life changing. So many people are being touched. Not just kids - we have aunties and uncles coming out. (Their) quality of life is improved.
"It's such a barrier to get through the sand without adaptive equipment and trained staff. It's almost impossible. That's where our niche is - we're kind of filling the need that the disabled community throughout the island is calling for," Marble added.
On the first Saturday of each month, from 9 a.m. to 1 p.m., the community is welcome to join AccesSurf staffers, who are trained physical therapists and lifeguards, at White Plains beach for "A Day at the Beach." Any person with a disability who'd like to get into the water can try adaptive surfing or shoreline swim-ming/floatation activities.
Wheelchair paths or mats, explained Marble, are rolled out across the sand, going down to the water's edge. People can try adaptive beach chairs as a way to get into the water, or try out an adaptive surfboard. Swimmers and surfers can wear adaptive life jackets, and Marble is also excited about AccesSurf 's sea kayak with two outriggers, which people may also use as a means to get into the water.
At last month's event, he said, about 32 to 35 people came out.
"Right now our program is once a month at White Plains. We hope to be implementing more on a weekly basis," he said. "(People) can come out, meet some new friends. If they don't want to surf, they can just sit. (We welcome) all different levels."
Marble said that through his work as a full-time physical therapist at Shriner's Hospital for Children, he spends plenty of time around people with disabilities, including paraplegics, and persons with muscular dystrophy and autism. He also has friends with disabilities. From these everyday interactions, Marble was inspired to create AccesSurf Hawaii, to "bring ohana with disabilities back to the beach."
Marble's AccesSurf mission has generated some other exciting programs and events.
Crocs International approached him about creating a brand new shoe associated with AccesSurf, which would be marketed exclusively to Hawaii and the West Coast at Crazy Shirts stores.
"(It will) provide more opportunities to expand to Maui, the Big Island," said Marble about what his organization could do with proceeds from shoe sales.
AccesSurf is also sponsoring a team in the upcoming Duke's Ocean Fest this summer.
"It's the first-ever team of four disabled surfers paired with legends from Duke's era," Marble said, adding that AccesSurf participants will also be involved in the Memorial Day weekend "Surf into Summer" event at Ala Moana Bowls.
"We are working to where we are going to be able to do this full time, so that we can provide more, more often," he added.
For additional information, visit http://www.accessurfhawaii.org
Most Recent Comment(s):