Highlands Representing Hawaii In D.C.
Wednesday - April 09, 2008
E-mail this story | Print this page | Comments (0) | Archive | RSS
|
Share

Del.icio.us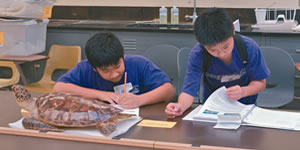 Brent Noborikawa and Tyler Mikami fiercely use their resources and teamwork skills to uncover information about this Hawaiian honu during an event. Photos by Michael Lane.
Students from Highlands Intermediate School and the Upward Bound program at Leeward Community College were among 16 teams of middle and high schoolers from across the state to take part in the fourth annual Hawaii State Science Olympiad (HSSO) held in early March. As part of Division B, middle schoolers competed in six events, while high schoolers competed in Division C with 12 events that focused on science and math.
"I thinks it's a great way to get students involved in science, technology, engineering and math," said Kathy Lin, science teacher and club sponsor at Highlands. "Because of the different events, every kid will find something that interests them.
"The kids at Highlands are really good at working with each other, and the result was that both teams did really well," she added.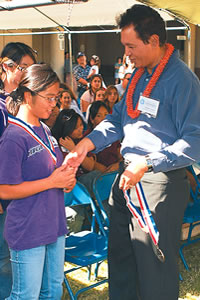 Kara Ogawa and Mariah Kirata keep their school's winning streak rolling as they determine the classification of these rock formations. Photos by Michael Lane.
Highlands' two teams took both first and second place in Division B, where they competed in every category, including ones on anatomy, trajectory, and rocks and minerals. The Upward Bound team competed in events that focused on subjects such as science issues, forensics, oceanography and physics as part of Division C events. The team took sixth place, but winning wasn't important to Anastacio Dalde, tutor coordinator for Upward Bound.
"We're a new team and I think we did really well," he said. "The other teams just did better."
The teams that placed above third were invited to participate in the National Science Olympiad at George Washington University in Washington, D.C., May 30 and 31. While the Highlands teams will be attending the competition, Lin isn't sure where all the funds will come from.
"It is going to cost about $20,000," she said, figuring travel costs will come to about $1,000 per student and chaperone. "Businesses who want to donate would really help us out a lot."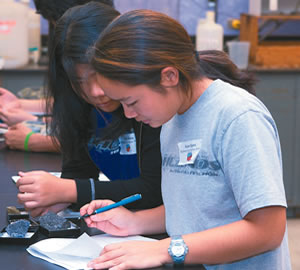 Charlene Caraang shakes hands with Leeward Community College interim chancellor Manny Cabral as she and Grace Morita receive their first-place medals. Photos by Michael Lane.
Lin also said she would be seeking funds from the school district and other grants so students can spend as little as possible to attend. To help the Highlands teams, contact Lin at 453-6480.
HSSO started in 2005 with just one school and has since grown to incorporate about 180 students from 16 schools. The main mission of the tournament is to improve science education in the state of Hawaii by encouraging teamwork between the community, schools and students while restructuring how science is taught through workshops and staff development.
"When I was in school, we didn't have this type of thing, and I think it's really good for the kids to get involved," Lin said. She also said students don't need to have any special credentials to be a part of the team, just an interest in science.
"If they're interested, willing to spend the time and want to learn, that's pretty much the only criteria."
To join the competition or for more information, visit www.hsso.org or e-mail .(JavaScript must be enabled to view this email address)
Most Recent Comment(s):