HPV Vandalism Wrecks More Than Property

Wednesday - February 10, 2010
By
.(JavaScript must be enabled to view this email address)
E-mail this story | Print this page | Comments (0) | Archive | RSS
|
Share

Del.icio.us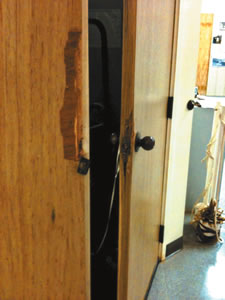 Vandals broke into Hawaii's Plantation Village last month, causing roughly $12,000 in damage to the Waipahu museum. Photo from Sandi Yara.
Hawaii's Plantation Village is unique in that it is the only place on Oahu dedicated to preserving the history of Hawaii's sugar plantations and its workers. At the same time, it is like most other small museums in that it exists on a shoestring budget and the generosity of dedicated volunteers.
That small level of financial security was rocked Jan. 25 when vandals broke into the museum, causing approximately $12,000 in damages.
The museum has been hit with crime before, but this was the first time a planned effort was put into place.
"A year and a half ago we had all the copper stolen from the building," said HPV executive director Jeff Higa. "We've had homeless come in for some, smash and grab some sort of thing, and run away when the alarm started to ring."
But, according to Higa, these burglars weren't in such a hurry. In fact, they were well-organized and had a plan.
"The police said somebody would have to have been in this building to know (about the security system) because the motion detectors all went off at once, and police said that means a group had come in and did everything quickly. So somebody must have come in and looked
around at the security system," he explained.
According to police reports, the intruders cut the phone lines that connect the museum to its security company before smashing an alarm horn, the security keypad and the VCR security recording system. They also made off with a digital camera and some silver medical tools used in the plantation era and several Filipino knives that were housed in the archives.
They even stole $3 in pennies.
Higa said insurance may cover the cost of the damages to the building, but the biggest loss - between $8,000 and $9,000 - comes from the missing equipment, which is not covered by the museum's insurance policy.
Another big concern for Higa is repairing the emotional damage from the break-in that the staff sees as just a senseless act.
"The worst part is that we are pretty much run by volunteers," he said."They run the organization. They do the heavy work.
"It's always a concern when these things happen," Higa added."They feel down - down or depressed, or it's just another setback, and part of my job is to try to get them feeling better."
Fortunately, the museum doesn't keep any money on property, and no damage was done to the other buildings.
The museum remains open to the public during regular business hours. Admission also remains unchanged.
Visit www.hawaiiplantationvillage.org for more information.
Most Recent Comment(s):