Hypersquad Bids Aloha To Founder At Fundraiser

Wednesday - February 03, 2010
By
.(JavaScript must be enabled to view this email address)
E-mail this story | Print this page | Comments (0) | Archive | RSS
|
Share

Del.icio.us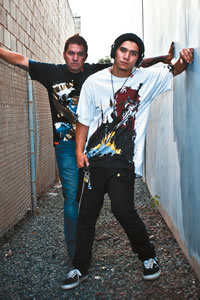 Hypersquad founder and director Jason Ulep (back) passes the torch to his little brother Josh after this Saturday's fundraiser at McKinley. Photo from Jason Ulep.
What's all the hype about? Simply put, Hypersquad Dance Company.
Started by Waialua boy Jason Ulep in 1996, the Waipahu-based dance studio has quickly morphed into the place to be for performers in West Oahu.
"I was pretty much working for someone else originally, and I kind of got burnt out from the whole experience. By then the people at that studio kind of motivated me to open up my own place, so it kind of just worked out," said Ulep.
The crew is having its annual fundraiser this Saturday at McKinley High School, but the occasion will be bittersweet for Ulep. After the concert, he'll be handing over the Hypersquad reins to younger brother Josh in order to pursue a new role as an art director for a hip-hop clothing company in LA.
"The company actually wanted me to move up a month ago, but I told them I needed closure and a week to digest everything after my show is done," Ulep explained. "Hypersquad is like my family. I've pretty much raised these kids from when they were young. Some are now bringing their own kids."
Though well-known for hip-hop, Hypersquad gives lesson in all styles of dance, from ballet to jazz, point, Latin, even popping.
But the students learn more than just technique and proper form. According to parents, they see a marked change in their children for the better.
"I have seen Jason and Hypersquad develop into something more than a dancing studio - it's a second family to many of the dancers," added "team mom" Jeannie Lalau, whose 7- and 9-year-old daughters have both danced with the studio for the past five years.
"I have seen what dancing has done for them. It's hard to believe that they were first shy and soft-spoken, but dancing helped build their character and the ability to socially interact with others."
Two two-and-a-half-hour shows start at 12:15 and 5:30 p.m. and feature more than 150 dancers showcasing their talents. Tickets for the fundraiser cost $15 in advance, $20 at the door, and can be purchased by calling the Hypersquad Dance Company at 676-4973. All proceeds go toward supporting the company and its programs.
"What's really cool with the concert is since it's my last show, one of our choreographers has put together a Las Vegas-style show and collected a bunch of the dancers who have been a part of Hypersquad over the last 14 years," said Ulep.
"A lot of people are flying back from the Mainland for this show. They've been rehearsing via YouTube!"
But don't expect to see any unhappy faces Feb. 6. Hypersquad just found out that seven young dancers have been selected to compete in the pop culture television hit America's Best Dance Crew. For the first time in the show's five-season run, there will be a completely Hawaii-built crew: HYPE 5-0. Keep a lookout for Josh, Casey Kalahiki, Brittnie Aguilar, Marc Duey, Jon Ramones, William Soares and Allen Pascual when the show airs at 10 p.m. Thursdays on MTV (check local listings for stations).
"I think they're really, really representing Hawaii. Even their name pays homage, you know, Hawaii 5-0. They're going in really proud," Ulep said of gaining national exposure through the show.
"They've been working hard toward it for some time now, putting a lot of time and money into it. I really believe that they have the talent to win the show, so I'm expecting (Josh) to be gone at least two months. But the studio's really strong, we have at least 15 core instructors who can take over until he gets back. And it's kinda good because it gives other kids the opportunities to step up and shine.
"It was always my dream to one day either pass on my studio and be able to do something else or create another studio for my brother. It offers him a nice life to do something he's passionate about."
Hypersquad Dance Company is located at 94-155 Leoole St. Call studio for more information about class dates, times and prices.
Most Recent Comment(s):