Inline Skaters Move Out Of Sun, Into KIHA

Wednesday - January 13, 2010
By
.(JavaScript must be enabled to view this email address)
E-mail this story | Print this page | Comments (0) | Archive | RSS
|
Share

Del.icio.us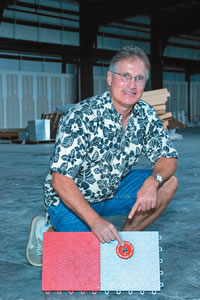 Kapolei Inline Hockey Arenas owner Richard Pentecost previews the special tile flooring that will be the "ice" for Hawaii's first indoor hockey rink. Photo by Byron Lee,

.(JavaScript must be enabled to view this email address)

.
Kapolei will be home to Hawaii's first indoor hockey arena when Kapolei Inline Hockey Arenas opens its doors next month.
Located in the Kapolei Business Park, the air-conditioned facility will house two 17,000-square-foot rinks, locker rooms, bathrooms, a snack bar and pro shop.
It all began with an idea KIHA owner Richard Pentecost had more than four years ago.
"I've never played the game of hockey, but my sons (age 19 and 17) play," said Pentecost. "When we would go to the Mainland to compete we found that we are at a disadvantage. Now we're bringing the right tools.
"I'm bringing in a hockey director from Oregon, Jason Domitrozic,"he added."My main goal is to get Hawaii players to the next level."
Until now, the only option for Hawaii's approximately 500 inline hockey players is to practice and play at outdoor arenas with concrete surfaces. Weather and no lights at these facilities also restrict use.
KIHA's rinks feature a special tile surface that closely mimics the feel of ice. And the complex also is equipped with mezzanine and cat-walk levels to allow for maximum viewing to catch the fast-paced action.
"Everything is offered for the players and the general public to enjoy the sport,"said Pentecost, who privately funded the project. Helping turn his idea into a reality were architect Mark Matsumoto of M. Squared Design and general contractor James Oellien of Oellien Pacific.
Pentecost said the arena will be used for practices, hockey tournaments, scrimmages and eventually to host Mainland and international teams.
"I think there's a lot of room for growth," he added. "I really I want the Hawaii youths and adults to benefit from this."
For more about KIHA, visit www.kihawaii.com.
Most Recent Comment(s):