IPA Students Recycle And Win $10,000
Wednesday - June 20, 2007
By Lisa Asato
E-mail this story | Print this page | Comments (0) | Archive | RSS
|
Share

Del.icio.us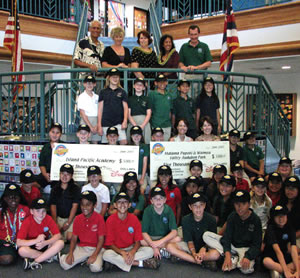 Celebrating Island Pacific Academy's $10,000 win are (top
row) state Sen. Mike Gabbard, school president Sue Miller,
Luann Sackrider, Lisa Fabro, headmaster Dan White,
(middle) Kelly Perry of Waimea Valley Audubon Society and
Colleen Haviland of Malama Popoki, as well as the IPA
fourth-grade winners. Photo courtesy of Island Pacific
Academy.
Fourth-graders at Island Pacific Academy in Kapolei took first place in Disney Adventures magazine's All-Stars contest for volunteerism, winning $5,000 for their school and $5,000 for the charity of their choice.
The students, 36 in all, also received T-shirts, hats and three DVDs each, among other things, and will be featured in an upcoming issue of the magazine. They were chosen from a field of more than 2,000 entries for individual, family and school categories.
IPA's winning project involved collecting recyclables from the elementary student body, which spans grades K-5, and donating the proceeds to the nonprofit Malama Popoki, which works to control the feral cat population. Students' volunteer work also entailed getting their hands dirty, literally, by caring for the land at Waimea Valley Audubon Center, where teacher Lisa Fabro said they spend one day a month working to clear streams, rake, blaze trails, remove invasive plants, propagate desirable plants, mulch and compost.
"We do pretty much whatever they need us to do," Fabro said, adding that the grade 4 curriculum emphasizes learning about Hawaii and its unique environment. As part of their monthly treks to Waimea, the students were required to tote their rubbish back to school.
"They couldn't throw anything away in the dumpsters in Waimea," Fabro said. "I wanted them to think about what they leave behind when they go anyplace ... Reducing, reusing and recycling became part of our everyday routine, and this year we've been rewarded for it."
Students decided to split the $5,000 charity winnings between Malama Popoki and the Audubon Center.
As for recycling, teacher Luann Sackrider said the students took turns redeeming the collected containers - and raised $342 from some 7,000 bottles and cans. "We distributed those home with children ... and the money came back in," Sackrider said. "See how cool it is? I think that's pretty special that the kids and parents were all willing to do that."
Funds raised were initially earmarked for a party until student Michael Brenner suggested donating it to Malama Popoki, which traps, spays and neuters feral cats - a problem they were learning about in school. "When Michael mentioned this ... everyone in my class turned around, and they went 'Great idea, Michael,'" recalled Sackrider. Impressed, the teacher of 20 years replied, "I'm so proud of you guys, I'll give you a party anyway."
At a recent assembly, state Sen. Mike Gabbard presented the students with a Senate Resolution commending them for their volunteer work and their award. The resolution hangs in the school's office, and copies were made for all the children.
"We loved that the Island Pacific Academy students came up with a project that worked on two solutions at once," said Disney magazine senior editor Deborah Way in a press release. "Using the proceeds from a recycling program to help solve the feral cat problem in Hawaii is one of the most creative projects we've ever seen. It reflects well on the students' selfless spirit and community service, and we are thrilled to recognize them with the award."
Most Recent Comment(s):