It's A Go For Gadgets At Campbell
Wednesday - March 05, 2008
E-mail this story | Print this page | Comments (0) | Archive | RSS
|
Share

Del.icio.us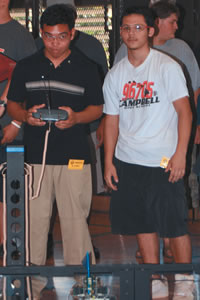 Steve Saragoza and Michael Nakamura get ready to operate their robot in the final round of competition Photos from Carlos Santiago.
Students, volunteers and faculty members of Campbell High School will compete March 27 and 28 in the For Inspiration and Recognition of Science and Technology (FIRST) robotics competition.
FIRST is an annual event that began in 1992 and now incorporates 37,500 high school students from several countries including Brazil, Canada, Israel and the Netherlands. As part of the competition, students are given the task of building a robot to perform certain tasks under a strict time limits.
This year, teams will have to design robots to race around a track, knock down 40-inch inflated track balls and navigate around the track, passing either over or under an overpass. The teams will have 2 minutes and 15 seconds to complete the task. However, they will not just be scored on how well their machinery runs, but also on how well they work as a team.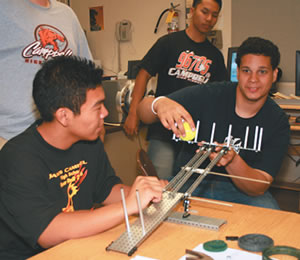 earlier that day, Saragoza and Daniel Harris test out their VEX robot Photos from Carlos Santiago.
"It's about gracious professionalism," said Daniel Schaffer, teacher and adviser of the robotics program at Campbell. "We don't go in there to destroy the competition. You get points and awards through how you work and interact with the teams around you."
This is still the rookie year for the program at Campbell, but it has been a successful one in that students are participating, and their robots have already won. Based on their performance in a different local robotics competition held last December, the Campbell robotics team was invited to go to the VEX Challenge Championship this May in California.
Funding and support for the school's robotics program has come in from NASA and the Pearl Harbor Naval Shipyard. NASA has provided the money to start the program and pay the entry fees for the competition, while the shipyard has supported by lending people with expertise in many different fields.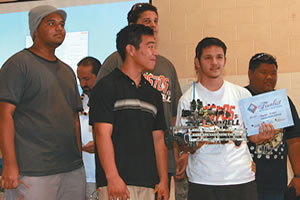 Michael Jackson, Saragoza, Harris, Nakamura and Romeric Ibus take home a runner's-up award. Photos from Carlos Santiago.
"They're providing bodies," Schaffer said. "That's one of the key issues that helped this whole competition run, having volunteers coming out and helping the students and teaching the students."
First Class Petty Officer Machinery Repairman Gerald Corpuz has been a volunteer since the beginning and said these students are living his dreams.
"During my years in high school, I wanted to get into that program, but it was never offered," he said.
Corpuz helps the students with the construction of the robot and understanding the physics and math behind it in the hopes that it will help them in their academia.
Schaffer wants to recruit more sponsors as time goes on to provide more funding and knowledge for the program, which he said is all about the students.
"It's really student-driven. The mentors help guide them, but they're self-motivators," he said.
Most Recent Comment(s):