It's A Wrap For LCC's Paul Cravath

Wednesday - November 10, 2010
By
.(JavaScript must be enabled to view this email address)
E-mail this story | Print this page | Comments (0) | Archive | RSS
|
Share

Del.icio.us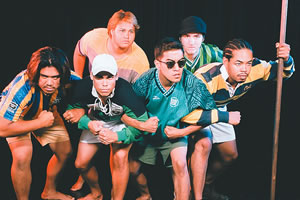 (Front, from left) Jonathan Jumayao, Anthony Czumalowski, Harold Wong, Daniel Griffin, (back) Ka'ui Leleo and Ikaika Cleghorn play mythical Greek heroes in 'Argonautika,' premiering Friday at LCC Theatre. Photo by Donald J. Ranney.
Having been the drama director for Leeward Community College for the past 34 years, Paul Cravath has decided that his latest theatrical production, Argonautika, also will be his last. But he knows he is leaving on a high note.
"In a sense I am leaving at the top of my game," said Cravath. "I had been the lynchpin or hub of the wheel for so long, and now I'm leaving with a tremendous, capable production team in place.
"Our productions have gotten bigger and more profitable - it's wonderful what we have here. This theater is filled with energy."
Argonautika, which premieres Friday and runs through Nov. 20, is another unpublished work written by Tony Award-winner Mary Zimmermann that LCC will bring to life. This will be the fifth play by Zimmerman's that LCC will perform, the last of which was Journey to the West in 2008.
Argonautika is the classic Greek tale of Jason and the Argonauts' quest for the Golden Fleece. Aided by the gods, the Argonauts thwart treacherous kings, matricidal women, harpies and sea serpents.
Among the Argonauts are mighty Heracles, twins Castor and Pollux, and fathers of the yet-to-be-born Achilles, Odysseus and Ajax.
It is said the tale is a testament to the Argonauts' resilience as well as a chronicle of the significance of their sea vessel, Argos. By legend, it denotes the first use of sails allowing for travel beyond the sight of shore. The immediate threat the Argonauts face is that traveling in this manner is seen as a challenge to the gods of sea and wind.
It is the start of a new era of freedom for mortals and perhaps a change in relationship with the gods.
"Argonautika is a fantastic spectacle with modern imagery, live orchestra, unusual international instruments, interesting costuming and a cast of 38, which is quite rare in theatrical production these days," said Cravath.
Cravath, who has lived in Hawaii for 40 years, will be launching an adventure of his own after this show.
"I am actually going to be leaving Hawaii behind and heading to Minnesota, to the land of my ancestors, having inherited land and property that has been in my family for 160 years," he said.
Show times are 8 p.m. Nov. 12-13 and 18-20, and 4 p.m. Nov. 14. Tickets cost $10 for children under 10, $15 for students, seniors and military, and $18 for adults.
For more information or to purchase tickets, call 455-0385 or visit etickethawaii.com.
There will be an opening-night reception from 6:30 to 7:30 p.m. Friday in the theater courtyard with Greek food, champagne, wine and the opportunity to meet Cravath and fight choreographer Tony Pisculli.
Cost to attend is $50, with a $25 tax-deductible donation to be made to the performing arts department through the UH Foundation.
Deadline for reservations is Nov. 8. Call 455-0380.
Most Recent Comment(s):