Kapolei High Heats Up The Kitchen
Wednesday - May 14, 2008
By Kerry Miller
E-mail this story | Print this page | Comments (0) | Archive | RSS
|
Share

Del.icio.us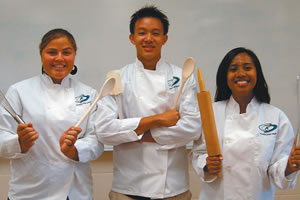 Kapolei juniors Raylana Whitley, Hansen Ho and Laynie Viernes repare for battle. Photos from Cynthia Pratt.
An Iron Chef America-style competition at Kapolei High School May 2 pitted teachers against students ... and raised money to establish the KHS Kokua Fund.
"They were quite competitive, but they had fun, and all the food looked and tasted delicious," declared Kapolei food service teacher Cynthia Pratt.
The "Hurricanes Turn on the Heat" cook-off kicked off in the school's culinary kitchen and featured six teams of three, some with teachers, student athletes and class officers. Teams cooked three dishes each - an entree, dessert and side dish - in 55 minutes. Similar to the Food Network's Iron Chef America, teams were given a secret ingredient at the last minute that they were to incorporate into their dishes.
Before the contest, students trained with Pratt for two months after school. None was culinary trained, and none, she said, was enrolled in her culinary classes.
"They all came in with game faces," she said."They practiced enough so they could do this by memory. A good part of their scoring also came from teamwork, how they set their table, even how they were dressed."
Winning the Chef 's Choice Award were teachers Michael Katzenberg, Alice Iraha and Martha Richards. The teachers made chicken and broccoli, ginger-jasmine rice and a strawberry-mandarin cream tart.
Juniors Hansen Ho, Raylana Whitley and Laynie Viernes won the People's Choice Award for their spicy apple pork tenderloins and vegetables, spicy noodles and a spicy pineapple upside-down cake.
Matthew Espiritu, sous chef at Roy's Ko Olina and a former student of Pratt's, judged the contest along with Terry Phillips, manager of marketing and public relations at Aloun Farms.
"Aloun Farms here in Leeward Oahu, they provided a lot of the fresh produce for us. Aloun Farms was our partner," Pratt said as a special thanks to the company. She also expressed her thanks to Kapolei businesses that donated items for ballot prizes.
The event was made possible by a Good Idea Grant from the Public Schools of Hawaii Foundation. Pratt applied for the grant, which is available to all public school teachers, a year ago.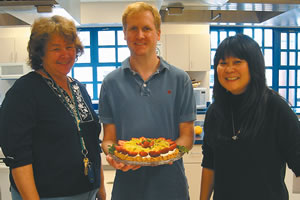 Teachers Martha Richards, Michael Katzenberg and Alice Iraha show off their award-winning recipes. Photos from Cynthia Pratt.
To receive it, one must propose an integrated program that addresses a school or community need with measurable results. The cook-off did just that by integrating the KHS Food Service Program, Creative Media Academy, Graphics Academy and Industrial Technology Program.
"Creative Media Academy provided cameras, crew and set-up in the room. They were actually televising the event live. The whole school was watching," explained Pratt. "The Industrial Technology students created a heavy-duty platform for judges, constructed for TV purposes. The Graphics Academy created color posters of all the students, did the banner in front of the school, did all the tickets and will make thank-you cards."
Students and staff watching the cook-off voted by ballots that they bought for $1. All ballot proceeds are for the KHS Kokua Fund, which will assist needy students with educational supplies and course fees.
"We are aware of students who come from transitional communities - families that might have been displaced or homeless - come into high school," said Pratt."We know that they have needs for basic supplies, curriculum-related field trips, and many times they don't have the necessary supplies.
"I thought it would be great to have a fund when we know of individual cases where a student needs help."
Most Recent Comment(s):