Kapolei Is Catching The Lacrosse Bug

Wednesday - October 24, 2007
By
.(JavaScript must be enabled to view this email address)
E-mail this story | Print this page | Comments (0) | Archive | RSS
|
Share

Del.icio.us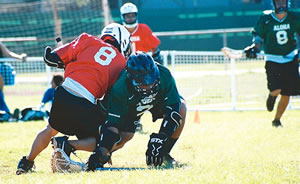 Justin Matsuo (8) faces off against Cyril Ontai in a battle for possession. Photo from Megan Mulcahy.
We are familiar with the all-American sports of football, baseball and basketball, but how about lacrosse?
Lacrosse is said to be the fastest-growing high school sport in the country, and although many aren't aware, the same holds true for the state of Hawaii.
The 17th annual Hawaii Lacrosse Invitational Tournament gets under way Friday through Sunday at Kapiolani Park, attracting 30 teams of men and women at the club and professional levels from Japan, Canada and all over the U.S. The Hawaii Lacrosse Club established the tournament in 1990 and functions under the Aloha Youth Lacrosse Association.
Two dedicated players in the Hawaii club, John Keogh and Eryn Flynn, hail from West Oahu. "I actually was a part of the very first wahine team back in 2000," said Flynn. "I had just moved here, and I was staying with Johnny Helm - he's known for his music here in Hawaii, but to me he was just my big brother's friend - and when I had nothing to do one weekend, he dropped me off at the park. The wahine lacrosse team was playing, and I jumped in!"
As for Keogh, "My older brother signed up for a new youth lacrosse league because he was bored with baseball," she explained, "so I followed after him. Lacrosse was definitely the cool sport to play."
Now Flynn and Keogh, who both teach at Kapolei High School, are working hard to share the sport of lacrosse with the youths - Flynn coaching the girls team and Keogh, the boys. Keogh started the Kapolei Lacrosse Club in 2003 during his first year teaching there.
"The sport was new to all the kids, so it took time to teach the rules and fundamentals," said Keogh. "Once we had our first games, the kids promote the game for you."
Getting her team off and running has been an uphill battle for Flynn, however, but a great one nonetheless. With only six lacrosse teams at the high school level on Oahu (Iolani, Punahou, Mid-Pacific Institute, Kapolei, Windward and Mililani), Kapolei is the stand-alone girls team since it came into existence a year ago.
"That's the downside," said Flynn. "There aren't many other girls to play against- we mostly scrimmage against each other. Last year we headed to town on Sundays to play the younger girls in AYLA just to have someone to play against."
Flynn says the girls are eager to introduce the sport to the islands.
"We would all love to see it catch on! It would be really nice to have some friendly competition. It would mean a lot to them to see the popularity of the sport grow and know that they had something to do with it."
The players come from various backgrounds, and for many this is the first sport they have ever played.
"I think that many of the team members were attracted to the sport because it is new and different to them. It's empowering for the Kapolei girls - they're at the beginning of something that's only going to get bigger," Flynn explained.
"Lacrosse requires a lot of physical and mental strength," Keogh added, "along with coordination. Lacrosse teaches you how to challenge yourself and become someone that others can count on."
The lacrosse season runs from February to May. However, "We call it an endless season here in Hawaii," said Keogh, referring to the picture-perfect weather.
Lacrosse is a contact sport with 10 players on a team. Players wear helmets, shoulder pads, arm pads, gloves, and use a stick with a net at the end. It's much like hockey or basketball, with the object being to score more goals than your opponent using a hard rubber ball about the size of a baseball.
It's a physical sport, explained Keogh, but it requires a lot more than mere strength and muscles.
"Bigger and stronger players do not necessarily give another team an advantage," he said. "Some of the best players come in small packages, so lacrosse does not discriminate based on size like football or basketball sometimes do."
Control is another important factor for success, said Flynn. "They're running around with sticks, but, especially in girls lacrosse, the skilled player will always win. You want to be aggressive, of course, but not reckless."
With the tournament approaching, both Flynn and Keogh are eager to participate.
"I just love getting out on the field and running around with the other wahine players. It's such a fast, action-packed sport - there's rarely a moment when no one is running around during a lacrosse game," Flynn said. "We have such a great lacrosse community out here, and its the same feeling, only on a much larger scale, when the tournament comes to town."
She sees it not only as a competition against some of the best lacrosse players in the world, but also as an inspiration for the Kapolei Lacrosse Club.
"We get some of the best men and women players out here, and it's a level of lacrosse our kids have never seen. They'll be blown away."
The Kapolei students will have a chance to experience all the action firsthand, as about 30 lacrosse players and students will volunteer at the tournament - setting up the fields, acting as score runners and refilling water coolers.
As for the future of the sport in Hawaii, "It would be fabulous to see lacrosse become a sanctioned sport for Hawaii schools. I hope all of the school athletic directors can be open to the idea of adding a new 'mainland' sport - there are so many colleges that have varsity and club teams, that it just gives the kids more opportunity," noted a hopeful Flynn.
Keogh is bright with optimism: "The lacrosse world is small, much like a fraternity. Hawaii is just a part of the inevitable growing fraternity of lacrosse enthusiasts."
Most Recent Comment(s):