Kapolei Kids Welcome Civic Responsibility
Wednesday - June 10, 2009
By Kerry Miller
E-mail this story | Print this page | Comments (0) | Archive | RSS
|
Share

Del.icio.us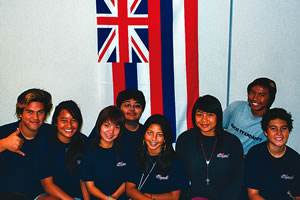 Kapolei Middle School students (from left) Kenneth Tauzer, Paige Akana-Harris, Abigail Claveria, Christian Mahuna, Lisa Cruz, Samantha Manibusan, David Fernando and Nicholas Huff will represent the 50th state this summer at the National Showcase of Project Citizen in Philadelphia. Photo from Jason Duncan.
Eight Kapolei Middle School students will see politics in action this summer when they travel to Philadelphia to attend the National Showcase of Project Citizen.
"These students will be representatives from Hawaii and the Western region of the United States at the National Showcase of Project Citizen, which is held concurrently with the annual meeting of the National Council of State Legislators," said KMS teacher Jason Duncan, who will be accompanied by fellow teacher Sarah Iverson. "They will be dialoguing with legislators and other individuals about Project Citizen on what issues they researched in their classrooms.Also, they will be able to enjoy some of the local history and culture of Philadelphia in their free time."
Duncan participated in a civic learning program called Project Citizen earlier this year. Sponsored by the Center for Civic Education, the program is designed to teach students to be active citizens in their community.
To jump-start it, Duncan asked students in each of his classes to think of things they felt were community issues. One class chose teen pregnancy as their topic, while others picked community violence, teen drug use, school violence and ocean pollution. Their task was then to come up with a way to solve these problems.
Students first researched their topic, evaluated already proposed solutions and developed their own solution in the form of a public policy. Next, they created a political action plan to enlist local or state authorities to adopt their proposed policy.
For example, Duncan said, the class that chose teen drug use "came up with policies that the DOE should provide more teen drug-abuse prevention programs in schools."
"It's a very extensive research process, what they have to go through to gather in this information, come up with a policy and a plan for how to get their policy in place," he added.
In March his students presented their plans at public hearings featuring state Reps.
Karen Awana and Kymberly Pine as judges, as well as police officers and other community figures who would have a connection to the particular issue. The hearings were broadcast on 'Olelo Community Television.
"They're kind of terrified a little bit," admitted Duncan on how students felt about seeing themselves on television.
'Olelo will rebroadcast the hearings on channel 52 at 9:30 and 10:30 p.m. June 15 and 22, at 11 p.m. June 18 and at 9:30 p.m. June 29. One hearing scheduled to replay at 7:30 p.m. June 28 will be aired on channel 49.
Since completing his first try at having his students participate in Project Citizen, Duncan said he looks forward to continuing it in the next school year. After all, he is district coordinator for the program.
He also was happy to report that his students got a lot out of the process.
"The objective of working as a class is something very new and different for them. When I do projects like this, I see the quality of work go up, I see their confidence increasing, especially when they have to speak in front of adults.
"Some of them are nervous, some are empowered by the situation.
"It's an excellent program that empowers students to see themselves as agents of change in their community. Instead of knowledge being something just isolated into what they learn in a given year or class, the program encourages them to apply their critical thinking skill to solve problems in their local community.
"Likewise, the hope is they carry these skills to be engaged, passionate and caring members in their local communities in the future."
The Center for Civic Education is a nonprofit educational corporation dedicated to promoting an enlightened and responsible citizenry committed to democratic principles and actively engaged in the practice of democracy in the United States and other countries.
Most Recent Comment(s):