Ko Olina Will Serve 4,000 Charity Meals
Wednesday - November 15, 2006
By Lisa Asato
E-mail this story | Print this page | Comments (0) | Archive | RSS
|
Share

Del.icio.us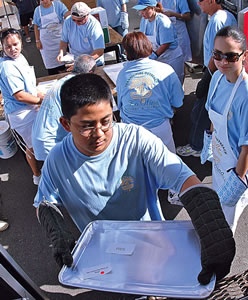 Volunteers load UPS trucks at Ko Olina's
Thanksgiving outreach to feed the hungry
and homeless in West Oahu. Photo
courtesy of Ko Olina Resort and Marina.
The spirit of giving thrives this holiday season with 4,000 Thanksgiving meals being served to the homeless, needy and single-parent families at 13 West Oahu churches this Saturday starting at 11 a.m.
Hosted by Ko Olina Resort & Marina, the annual Thanksgiving Outreach has quadrupled its reach since starting eight years ago with about 1,000 meals. The program is the brainchild of an employee who "wanted to do something for the community,"said out-reach coordinator Natasha Clarin.
"So we took it upon ourselves to get everyone involved and make it a community project," she added.
In this year's joint effort, Ko Olina provides all the food - including 2,700 pounds of turkey, 100 gallons of gravy and 4,000 pumpkin desserts, JW Marriott Ihilani Resort & Spa provides chefs, culinary students from Waipahu and Kapolei high schools assist, and cafeteria workers cook the turkeys at Kapolei High School.
Annual supporters Ko Olina Beach Club (Marriott) provides tents for the staging area, and UPS provides drivers and trucks to distribute meals, which will be served at churches and other sites where diners will receive additional kinds of blessings.
"We don't just serve the food, we share the word of God," said Irene Couch of Calvary Chapel West Oahu, a six-year participant in the annual lunch."All the time that they are there,they are listening to inspirational music, Christian music and also we have Christian hula in our church, (which we) perform for them. The elderly just love (the hula). We have a children's choir that sings to them."
The Ewa church expects to serve 350 meals, 50 more than last year because of an increase of Waianae homeless housed in transition homes at Barbers Point, said Couch, the wife of pastor Charles Couch.
"We did add more tables and chairs this year just to be ready,"she said, adding that people come to eat and are in no rush to leave. "They sit and stay the whole time, especially the elderly, which is good."
The church sends a bus to transport people who don't have rides, and delivers meals to those who are homebound or choose to stay away.
"Sometimes they don't want to come out, either way they'll have a meal," Couch said.
If previous years are any indication, the church will have folks lining up half an hour before the 11 a.m.start,and church volunteers will serve the food and juice, and discard plates for the diners when they're done.'
"We don't want them to do anything while they're there,"she said. "We just want to bless them from the moment they get there to the moment they leave."
Other participating churches include First Assembly of God in Makakilo, His Highest Praise Leeward Side and City of Joy in Nanakuli, Pearl City Community Church and New Hope in Pearl City, and Lighthouse Outreach Christian Center in Waipahu.
Ko Olina Charities relies on donations for the event. Interested donors may send checks payable to Ko Olina Charities to Ko Olina Charities Thanksgiving Outreach, 92-1480 Aliinui Drive, Ko Olina, HI 96707. For more information, call Clarin at 671-2512.
Most Recent Comment(s):