KRP Revs Up For Weekend Events

Wednesday - September 22, 2010
By
.(JavaScript must be enabled to view this email address)
E-mail this story | Print this page | Comments (0) | Archive | RSS
|
Share

Del.icio.us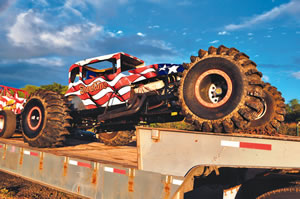 It's showtime this weekend as Kalaeloa Raceway Park hosts its inaugural motor-sports events at its temporary home in Kapolei. Photo courtesy of Kalaeloa Raceway Park.
Finally, racing returns to the West side this weekend when Kalaeloa Raceway Park plays host to its very first motor-sports event.
Called "Run What You Brung," the two-day event features SCCA RallyCross and Sand Drag Test N' Tune racing by Oahu's dormant-but-happy-to-be-driving enthusiasts.
Not only is this the first race at the new track, located just before the intersection of Coral Sea and Tripoli Road in Kapolei, it is the first of its kind ever held in the Islands, according to track coordinator Michael Kitchens.
"This is the first event for this kind of racing ever done in Hawaii, so it's kind a history-making deal," Kitchens said. "There was never any kind of RallyCross at all."
RallyCross is a race against the clock where drivers try to navigate the dirt course as they round, bound and slide their way around the track.
"If you've seen Rally racing on TV, it is like Subarus and Mitsubishi evolutions - just four-wheel drive vehicles tearing it up," he explained. Catch it from 8 a.m. to 5 p.m. Saturday.
The Sand Drag portion of the weekend, running from 8 a.m. to 4 p.m. Sunday, is simply a 200-foot race from the Christmas tree (the starting lights) to the finish. Whoever gets there first wins.
"We have some really, really nice, dedicated sand dragsters that are on the island," Kitchens said. "We run those types of vehicles and we also run everything from 4x4s to ATVs to guys on dirt bikes. It's very, very exciting to watch."
A former asphalt racer who has since moved behind the scenes because of an injury, Kitchens added that getting to the point where races could be held at the track has been a three-year-long process.
"There has been a lot of effort gone into the design and construction of the facility," he said, adding that all of the work to get the track up and running has been done completely by volunteers.
"Nobody has made any money off of this," he stated. "All the money we make from these events will almost all go completely into the park. The developer, George Grace Jr., has put thousands of dollars of his own money into the project, and everyone else has just donated tons of man hours and money and support to make it happen."
Alcohol is not allowed but tents, lawn chairs and coolers are welcome. For those who don't want to cook or pack their own food, concession stands will be open.
Admission is free to the raceway on Saturday; on Sunday, it's $10 per person and free to children ages 10 and under.
For more information, visit the park's website at kalaeloaracewaypark.com.
Most Recent Comment(s):