Laley, Behind The Lens In Vietnam

Wednesday - November 07, 2007
By
.(JavaScript must be enabled to view this email address)
E-mail this story | Print this page | Comments (0) | Archive | RSS
|
Share

Del.icio.us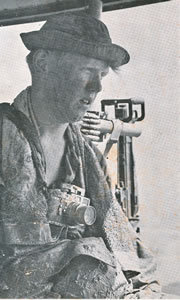 Muddied from rice paddies, photographer Mike Laley rests for a moment while on assignment in Vietnam. Photo by fellow Vietnam photographer, John Gardenhire.
Holding on to memories passed, Pearl City resident Michael Laley clutches old, weathered photos of himself and his comrades during the Vietnam war. What seems like a lifetime of memories are held within these photos, depicting a bittersweet time 40 years ago of heartbreak, sorrow, grief, passion and a strong sense of patriotism and pride for his country.
Glimpses back into the Vietnam war come rushing back to Laley each time he views them. To him, it's like reliving the war experience all over again.
"I get a little choked up when I look at some of them or try and explain what happened in those photos," he said.
It is these photos that are a reminder of the purpose he served while in Vietnam, not only fighting for his country, but capturing the experience on film as a combat photographer.
A day after his 19th birthday in October of 1967, Laley enlisted into the Army, volunteering to serve in Vietnam.
"I just felt that it was in my duty as an American to answer the call when your country needs you," Laley said.
He was sent to Vietnam in 1968, assigned to the Army's 9th Infantry Division, 9th Signal Battalion as a radio operator, but was then assigned to the photo lab, later becoming a photographer. Firing a gun takes precise skill and accuracy, like shooting a photo in a war zone; although Laley says the latter is far more risky, as the photographers often made targets of themselves.
"I was right alongside the infantry guys the whole time. I probably did take more risks to get the photos I wanted, but it didn't matter - that was just part of the job. We had to stand up to get a good picture when everybody else was on the ground."
Prior to being sent out to the front line with his camera by his side, he spent his first six months in Vietnam processing photos at the division headquarters base camp about 40 miles south of Saigon.
"It was generally safer at division headquarters," Laley recalled. "Although there were rocket and mortar attacks almost every night."
It was after one of the combat photographers in his unit had been killed that Laley took it upon himself to take his place. Displaying courage and determination, he told his first sergeant that he was ready if need be to work the battlefield. With the possibility of death or injury already high for any infantryman, for a combat photographer it was more prevalent. Their job was to capture each moment on camera. Defending themselves came second - they carried cameras instead of extra weapons and ammunition.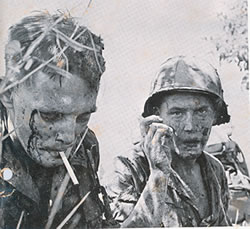 A famous Vietnam War photo of two U.S. soldiers. One was a pilot (left) whose helicopter had just been taken down. Photo by Mike Laley.
The soldiers inhabited the combat field for several days at a time, and Laley worked tirelessly to capture the brutality, raw flesh and emotions all in a single shot. Each shot was a testament to the pain and the suffering of the injured infantrymen and the dedication and bravery of the soldiers. Those memories are still fresh in Laley's mind.
"I think it is worse for me now - looking at the photographs I took and remembering all those guys I saw get hurt and killed," said Laley."We lost two more photographers while I was there. They were friends. It could have been any one of us."
On a full day of combat Laley would take up to 200 pictures (five or six roles of film). Amidst the heavy gunfire, he tried to stay out of harm's way, but he admits, there were some close calls. He remembers a time when he was on patrol on an island in the Mekong river, nicknamed "VC Island," which was heavily occupied by Viet Cong.
"I was walking in front of the EOD (Explosive Ordnance Disposal) guy on the trail and came within one step of tripping a trip wire," he said. "The Navy guy grabbed me by the shoulder and pulled me back. That saved all our lives."
During the final six months of his first year in Vietnam, Laley spent his time aboard a Navy barracks ship docked in the Mekong river. He recalls the nights in which he and his infantrymen would stand watch in hopes of catching any Viet Cong that got too close for comfort.
"At night the topside watchers would throw concussion grenades over the side (of the ship) to kill any swimmers coming out to attach explosives to the side of the ship." He distinctly remembers, "when you're sleeping below the waterline it is extremely loud."
War experiences like these helped Laley to obtain some of the best possible photos, many of them being published and winning him awards - an Army confirmation medal with a "V" device signifying valor and a bronze star - a couple on his list of many.
"It takes a certain type of person to go out and risk your life just for the sake of a good photograph," Laley said recently. "We took chances and did some crazy things just to get that award-winning shot."
Laley says it was the love for his job and his country that gave him the courage to return to Vietnam during the war four times since his first order. Though he has put down his weapons and combat gear, his passion for photography is still alive - he now manages the visual information studio at Pearl Harbor Naval Shipyard where he shoots photos and video.
"All the photography experience and training I gained on active duty and in the reserves has helped me quite a bit in my civilian career," Laley explained.
"I'm not so sure I would have gotten as far as I have if I had not been in the military. It was an experience that I do not regret."
In honor of Veterans Day this Sunday, Laley reflected, "I'm glad that we have a special day to honor our veterans, both past and present and the sacrifices that they and their families have made to keep this country free."
Most Recent Comment(s):