LCC Acquires 3D Animation Technology
Wednesday - October 25, 2006
By Lisa Asato
E-mail this story | Print this page | Comments (0) | Archive | RSS
|
Share

Del.icio.us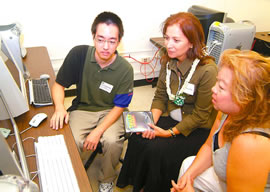 Student Jared Matsushige, Vivian Aiona (wife of Lt.
Gov. Duke Aiona) and DOE teacher Colette
Young-Pohlman view animation produced using
\the new UH render farm system at an Academy
for Creative Media open-house at Leeward
Community College. Photo from Kristen Bonilla.
Hawaii schools from elementary to graduate levels can now access an "animation render farm" housed at Leeward Community College, which performs a task that's made possible movies such as Finding Nemo and the special effects in Superman Returns.
Waianae High School's Searider Productions helped test the system starting in March, and students there have made 10 shorts using the render farm, said Ric Gresia, the program's digital media adviser.
"We're benefiting because it's providing some infrastructure that the (Department of Education) really can't provide," he said. "It's great that the colleges are letting us have access to it so the kids can get into this 3D animation, which is now in almost every feature film and even TV productions like Lost."
Rendering converts data into animated images. The $200,000 render farm only takes one hour to do what an individual computer will need 24 hours to do, and data can be sent via Internet, freeing classroom computers for other uses while the work is done remotely, said Chris Lee, director of the University of Hawaii's Academy for Creative Media.
"Three-D animation is driving popular culture today, and students are very good at it," Lee said at the recent unveiling. "Students are self-trained on the software. We're giving them the hardware so they can execute their own projects."
Besides benefiting the public, Leeward Community College has a "vested interest" in housing the system - it started a digital media program in August with 380 students, said school chancellor Peter Quigley."All our students are able to use the render farm as well," he said.
Lee thanked LCC for upgrading its electrical and air-conditioning capacities to handle the system, and he acknowledged donors PipelineFX, makers of the software; Ko Olina Foundation, James and Abigail Campbell Family Foundation and Hollywood director Roland Emmerich. Lee also announced an additional $145,000 grant from the Kellogg Foundation, which will allow the school to "quadruple the capacity of the facility."
Attendees at the Oct. 6 unveiling included UH President David McClain, state lawmakers, a city councilman, students and other representatives from colleges and high schools. Computer screens at the event showcased some of the animated work made by students using the new render farm technology.
Most Recent Comment(s):