LCC Festival A Worldwide Cultural Affair

Wednesday - March 12, 2008
By
.(JavaScript must be enabled to view this email address)
E-mail this story | Print this page | Comments (0) | Archive | RSS
|
Share

Del.icio.us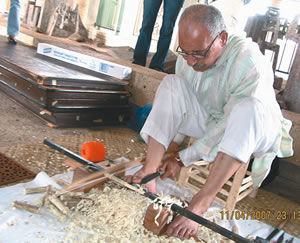 A Moroccan woodcarver and artist demonstrates the traditional art of carving wood by using his feet at Leeward Community College. Photo from Raymund Liongson.
While Hawaii may oftentimes seem completely isolated from the rest of the world, the truth is we are more connected with our international neighbors than we realize.
That is the focus of the 15th annual International Education Festival, going on today (March 12) through Saturday at Leeward Community College.
"We hope to have those coming to the festival learn more about the culture of other peoples of the globe and become more understanding, accepting and appreciative of them," said festival chairman Raymund Liongson."Until last year, we used to focus on a country or a region's history, culture, arts and issues. Last year, we decided to focus on global issues rather than a specific country and take up relevant and important issues."
What started off as a two-day lecture/display event has grown into a weeklong spring celebration where faculty, staff and students have the opportunity to express the diversity arising from their respective cultures, ethnicities, races, national origins and genders.
Liongson said to expect a few more changes to the festival this year. After three full days of lectures and presentations, the public - young, old and any age in between - is invited back to the Pearl City campus to experience a culmination of cultural activities during a fourth and final day titled "One World." The day will feature a variety of international foods, music and dance along with cultural demonstrations, displays and children's games.
"This year is the first time we culminate with a festival on a Saturday," explained Liongson. "In the past, we used to hold the festival aspect of the event during the school days. We feel we need to involve the community if we are to optimally celebrate the diverse and rich cultures of the world. Sharing the spirit of 'one community' would give us a better feel and understanding of 'one world.'"
This free event kicks off today with a keynote address by professor and executive director of Bangkok-based Focus on Global South Walden Bello at 10 a.m. in the LCC Theatre. Additional presentations will be on "Globalization and Humans Rights" by Jon van Dyke at 11 a.m. and "Impact of Globalization on the Hawaii Economy" by Howard Dicus at noon. Other topics concerning the effects of globalization on the environment, traditional culture and art as well as international relations will be presented by various speakers Thursday and Friday. Participants looking to take their education hands-on get the chance during a globalization simulation at Thursday's session.
A variety of Lebanese, Thai, Peruvian, Russian and Armenian cuisines will be available, and continuous entertainment for all days is provided with a Chinese lion dance by Gee Yun International Martial Arts, Mediterranean music and dance by Middle Earth, Philippine Kulintang Ensemble by Bernard Ellorin & Group, Japanese taiko by Japanese Taiko Group (TBC), International Music in the Air by the Royal Hawaiian Band (directed by Dennis Nakasone), and Capoiera by Capoiera Hawaii Academy.
For more information on the events, call Liongson at 455-0614 or Judy Kappenberg at 455-0284.
The International Education Festival is a joint effort of LCC and the Pacific and Asian Affairs Council, in cooperation with the National Organization for Traditional Artists Exchange (TRADEX) and the Aiwana Artists & Education Coordination, and funded by the Diversity and Equity Initiative, PacificTel and Wireless, and UNITE HERE Local 5.
Most Recent Comment(s):