LCC Students Get A Taste For Farming
Wednesday - August 15, 2007
By Lisa Asato
E-mail this story | Print this page | Comments (0) | Archive | RSS
|
Share

Del.icio.us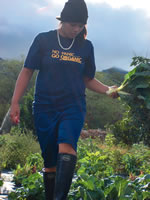 Leeward Community College student Cheryse Sana harvests some chard at MA'O Organic Farms. Photo courtesy of the farm.
About 17 Leeward Community College students are digging into the Earth - and lifting their community awareness - as interns at MA'O Organic Farms, an almost-three-acre farm in Waianae that's adding to its list of high-profile customers the nation's largest natural foods grocery.
MA'O Organic Farms was selected recently as one of three local suppliers for Whole Foods Markets' first Hawaii store, which is expected to open at Kahala Mall in the spring.
The farm's name, which stands for Mala 'Ai 'Opio - literally the "youth food garden," can also be translated to "the place where you grow young people," said Gary Maunakea-Forth, who co-founded the farm six years ago with his wife, Kukui.
The farm has four full-timers who are helped by part-timers Uncle William Aila Sr. and the student interns, who help tend to basil, green onion, cilantro, arugula, mustard greens and more.
"Everything is organic, and another unique and cool thing about our farm is it's managed and run by youth - I'm pretty much the farm manager, and everyone who works here is youth," said Manny Miles, an LCC sophomore, whose lighter-than-normal summer-school load allows him to weed, plant and fix irrigation at the farm.
The Waianae farm supplies restaurants like Town and Alan Wong's, and shops like Down To Earth in Honolulu and Kokua and 'Umeke markets. It also sells its produce at the farmers' market at Kapiolani Community College, from 7:30 to 11 a.m. on Saturdays.
"A very popular thing right now is baby red Russian kale," Miles said.
Miles, who was impressed by Whole Foods' deli, pizza and "top-quality" cuts of meat during a trip to New York, said the new account will help the farm achieve its goal of self-sufficiency.
"It's a really good opportunity because there's a market (for organic produce), but it's not big," he said. "We want to make enough money on the farm to pour some back into the educational program."
MA'O Youth Leadership Training program emphasizes three things: the farm, higher education and community leadership. The two-year-old program pays for interns' tuition and provides a stipend. To encourage networking and leadership, it also has sent interns to conferences on the Mainland and abroad, including LCC student Maile Perreira, who attended a food conference at the University of Michigan.
The internship is open to 17-to 25-year-olds from the Waianae Coast who want to go to college in any field of study.
"The youth are critical in growing both fruits and vegetables and growing a community," said Gary. "How do young people get to college in our community? Well, this is one way."
Most Recent Comment(s):