Leeward Y Supporters Stepping Up

Wednesday - April 26, 2006
By
.(JavaScript must be enabled to view this email address)
E-mail this story | Print this page | Comments (0) | Archive | RSS
|
Share

Del.icio.us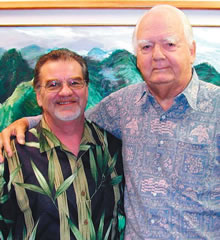 YMCA President and CEO Larry Bush (left)
teams up with Henry Clark, who will match
up to $1,000 for any individual donor
cash gift to the new Leeward YMCA. Photo
from Cara Mazzei.
The Leeward YMCA is on track to open early next year, and it has just gotten two healthy boosts from donors near and far.
Honolulu's Henry Clark, a longtime Y supporter, has established the Leeward YMCA Challenge Match, in which he will match up to $1,000 for each individual cash gift that is paid before Dec. 15 into the Reaching for Tomorrow capital campaign. And he's made $250,000 available for the challenge.
Also coming forward recently was the Kresge Foundation of Michigan with a $750,000 Challenge Match. A $2 million grant-in-aid is pending before the state Legislature.
These efforts will be extremely handy, as the Leeward Y is partway through construction - with more than $5 million to go - on its plan to offer a $13.5 million flagship facility to families in greater Waipahu and West Oahu.
"These challenge grants validate the importance of building a new Leeward YMCA to serve the Waipahu area," said Larry Bush, president and CEO of the YMCA of Honolulu.
Located on four acres at the former Waipahu sugar mill, the Y's executive director Manuel Ayala said it's already the largest provider of A-Plus care in Leeward Oahu, serving 2,000 children in 13 schools from Waipahu to Waianae.
Intersession and summer programs are housed on the YMCA site, which is essentially old sugar company buildings. They are being renovated for child care, youth and teen programs, and a new addition will house an adult fitness center, pool, lockerrooms, exercise classes and meeting rooms. To tour the site, call 671-6495.
"The project is very special to us," added Ayala, who lives in Ewa Beach. "We want to provide lots of family activities, at the same time we're proud to preserve some of the plantation heritage by saving the smoke stack and old generator building.
"The sugar mill used to be Waipahu's gathering spot. We want to see people again converge at this location."
He also noted that the YMCA's full fitness center would be a handy stop-off point for Kapolei and other West Oahu commuters who want to "relax from traffic" on their way home.
Most Recent Comment(s):