Leeward Y's Taniguchi A Perfect 'Fit'
Wednesday - September 19, 2007
By Lisa Asato
E-mail this story | Print this page | Comments (0) | Archive | RSS
|
Share

Del.icio.us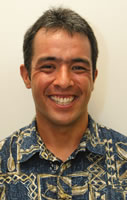 Keola Taniguchi
Keola Taniguchi of Waipio Gentry says he is a "firm believer in the YMCA's mission" of "putting Christian principles into practice through programs that build healthy spirit, mind, body for all."
"I think the best part of working for the YMCA is we impact lives every day from kids to adults to seniors to babies, and the best part about it here is the community really embraced it," said Taniguchi, 33, who recently was promoted to director of membership and marketing at the Leeward YMCA in Waipahu.
As director, he is tasked with spreading the word about Oahu's newest YMCA,which may replace the Nuuanu YMCA as the flagship location in the next couple of years."We've been asked to step up ...because of the growth out here," said Taniguchi, a 13-year YMCA employee, whose wife Alissa directs child-care for the Mililani branch. He previously served as assistant program director of childcare programs at Nuuanu.
The Leeward Y is quite literally built around Waipahu's landmark smokestack - a walk from the heated outdoor pool to the main lobby will take you right past it. The full-service gym, which opened in February 2007 and counts 4,100 members,features lockers,showers, weights, treadmills with personal TV screens, classes for kids and adults, family changing rooms and childcare, which comes free with family membership. Seventy-five percent of Leeward members are family members - a $75-a-month package covering two adults and all children under 19 living in the same household.
Taniguchi, who ran his first marathon five years ago, knows firsthand the difference a healthy lifestyle makes. Encouraged by his brother to try the 26-mile run, Taniguchi lost about 100 pounds, from a high of 270, and finished his first marathon at around three hours and 47 minutes. "I started by walking, literally just walking a mile and kind of changed what I ate.
Walking turned to jogging, and jogging turned to running and just kept going from there," he said.
"I would be hard-pressed to try to convince people about our mission if I'm not living it, so it was a nice turning point there," said Taniguchi, who's aiming to finish this year's race at three-and-a-half hours.
Sept. 22 through 29 is the national YMCA's America on the Move Week, which highlights health, fitness and healthy living. "We'll have events going on that week at all of our branches,"said Taniguchi.
Also starting this Sunday is a monthlong recruitment campaign called "Member get a Member." It offers prizes and "each time someone brings in a new member, they'll be entered into a prize drawing for a trip to Las Vegas. That promotion is islandwide so it's all four YMCAs doing that campaign at the same time."
For more information, visit www.ymcahonolulu.org or call Taniguchi at 671-6495. Hours of operation are 5:30 a.m. to 9 p.m. weekdays, 7 a.m to 7 p.m. Saturday and 11 a.m. to 3 p.m. Sunday.
Most Recent Comment(s):