Lions Host International Youth Camp

Wednesday - July 18, 2007
By
.(JavaScript must be enabled to view this email address)
E-mail this story | Print this page | Comments (0) | Archive | RSS
|
Share

Del.icio.us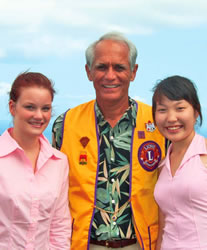 Sen. Mike Gabbard, a Lion, welcomes Marleuc Seelmaio of Austria and Uyanga Altangerel of Mongolia to the Hawaii Lions International Youth Camp. Photo courtesy of Sen. Gabbard's office.
In an effort to promote international understanding and goodwill, the Hawaii Lions International Youth Camp is hosting 40 youths from around the world this month.The four-week camp brings together youths who display leadership skills into an atmosphere of friendship and understanding, while introducing them to Hawaii government and culture.
The program includes group tours relating to business, industry, education, nature, government and history. The tours are the starting point of structured group discussions and seminars conducted by government and educational leaders and Lions representatives.
The youths arrived in the Islands on July 7 and were taken in by host families. Ewa residents, Eileen Lynn, Rep. Kymberly Pine and Sai Amosa opened their homes to two or three youths each.
"Because they have such a detailed schedule and will see all the major attractions like the Arizona Memorial, I mostly tried to take them shopping and to the beach,"said Lynn, an Ewa Beach Lions Club member who has been involved with the Youth Camp since 2001. "They love to go to Waikiki or Ala Moana or the malls. They took the bus with my kids to Ala Moana one day and went surfing at White Plains Beach."

Victor Noer from Denmark is being hosted by Eileen Lynn. Photos from Eileen Lynn.

Can Ekici from Turkey is staying with Ewa Beach's Eileen Lynn.
The youths traveled to the Big Island from July 11 to 15 where they were housed at the Kilauea Military Camp at Volcano National Park. Highlights of the trip included visits to Akaka Falls,Kilauea Volcano,an aquaculture farm that desalinizes deep sea water and dinners hosted by the Hilo and Waiakea Lion Clubs.
The youths returned to Oahu July 15 and are staying at Camp Puu Kahea in Waianae until July 29 when they will depart the Islands.Activities for their Oahu stay include meeting Mayor Mufi Hannemann and Gov. Linda Lingle, and visits to the Polynesian Cultural Center, the Bishop Museum, Aloha Stadium Swap Meet and meals hosted by various Lions Club organizations based throughout the island.A dinner and ceremony at Oahu Veterans Center will conclude their trip. There, the youth will share what they learned, including a hula performance dedicated to their Lions Club friends.
"I have found out that even though the youth come from around the world, from different countries, we all want the same thing - a good education, nice clothes, great career - the necessities of life,"said Lynn."We are all alike, just our governments are different."
Most Recent Comment(s):