London's Calling The PCHS Band

Wednesday - December 22, 2010
By
.(JavaScript must be enabled to view this email address)
E-mail this story | Print this page | Comments (0) | Archive | RSS
|
Share

Del.icio.us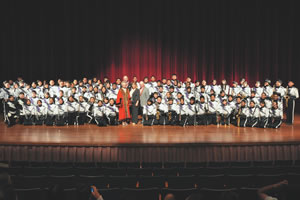 The entire 65-member Pearl City High School Marching Band and director Chad Kamei gathered on the school stage last month to receive their official invitation to perform in London's New Year's Parade from Lord Mayor Catherine Longworth, seen below bestowing the invite to PCHS principal Carlyn Fujimoto. Photos by Lawrence Tabudlo,

.(JavaScript must be enabled to view this email address)

.
London can expect to have a little aloha spirit on Jan. 1, because the Pearl City High School Marching Band has been invited to participate in London's prestigious New Year's Day Parade.
Earlier this month, Catherine Longworth, former Lord Mayor of the City of Westminster, London, flew to Oahu with her consortium including London Parade founders and directors Robert and Geraldine Bone to personally invite Pearl City band director Chad Kamei and 65 band students to be special guests in the 2011 parade.
"This is such an honor for our band,"said Kamei."In addition to sharing Hawaii's aloha with the world, our students will have the opportunity to experience the culture and heritage of London and the people of other countries."
Jan. 1, 2011, marks the 25th year of the London New Year's Day Parade, and for its silver anniversary, the City of Westminster wanted to invite and include musicians from Hawaii.
"This gives acknowledgment to all the students, parents and administrators for all their hard work," said Kamei. "It is a testament to all the people around us and everyone who has supported us as an organization and band."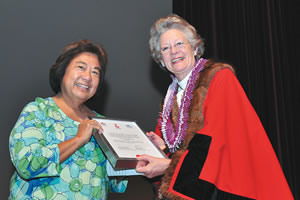 The entire 65-member Pearl City High School Marching Band and director Chad Kamei gathered on the school stage last month to receive their official invitation to perform in London's New Year's Parade from Lord Mayor Catherine Longworth, seen below bestowing the invite to PCHS principal Carlyn Fujimoto. Photos by Lawrence Tabudlo,

.(JavaScript must be enabled to view this email address)

.
Also attending from Hawaii are 15 members of the Aiea-based Halau Hula Olana.
The band, PCHS principal Carlyn Fujimoto and several adult chaperones depart on a flight to Paris on Christmas Day. They will spend three days in the City of Lights before heading to London for the New Year's celebration, which includes nearly 10,000 performers from around the world and a street-side audience of 500,000.
Along with the parade, there are plans to visit the Louvre Museum, Eiffel Tower and Arc de Triomphe.
The band also plans on taking a city tour of London, visiting the House of Parliament and even taking in a show of Wicked at London's famed Apollo Victoria Theatre before returning home on Jan. 2.
Most Recent Comment(s):