Math Class Charts Huge Improvements

Wednesday - December 23, 2009
By
.(JavaScript must be enabled to view this email address)
E-mail this story | Print this page | Comments (0) | Archive | RSS
|
Share

Del.icio.us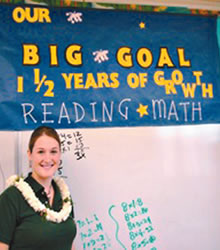 Waipahu High School special education mathematics teacher Kaitlin Taber sets 'big goals' for her students. Photo from Kaitlin Taber.
Mathematics teacher Kaitlin Taber is taking her passion for knowledge beyond her Waipahu High School classroom: She's teaching her 30 special education students integral life lessons while furthering their academic progress.
Taber services special education students in various disability classifications, including traumatic brain injury, emotional behavior disorder, mental retardation/intellectual disability and hearing impairment, among others. And although learning may come as a challenge to them, Taber's students don't let their disabilities get in the way of accomplishing their goals.
In fact, just last year Taber's class made an average improvement of 1.5 years in mathematics. "I set a plan at the beginning of the year that outlined exactly where I wanted my students to be performing at certain points throughout the year," she said. "I then created unit plans to ensure that I addressed the necessary content at the appropriate times."
According to Taber, assessment is a key factor in helping her students to reach their goals.
"I assess my students on a daily, bi-monthly and bi-yearly basis. I utilize formative assessments day-to-day and actively engage them in being responsible for their scores. Investing students in their grades with frequent reporting has been essential to their growth," said Taber, who was inspired by her brother to specialize in special education.
"My brother received special education services for a period of his life, and I was able to see the tremendous growth he made with the support of his teachers," she explained. "Knowing how much of a difference this made to my brother and my family, I wanted to help create a similar positive impact."
Taber hopes to achieve the same results this school year and see her students gain another 1.5 years of progress in mathematics. In the meantime, she is optimistically anticipating the results of her class' mid-year assessment results.
"At this point in the year, we are on track - 89.9 percent of mastery of unit content," she said. "My students and I work relentlessly to make these goals happen. Without this effort, we would not have achieved the significant gains that we did."
The Kapolei resident is currently pursuing a master's degree in special education at University of Hawaii at Manoa. Her passion for teaching, she said, stems from the belief that everyone has the ability to succeed.
"My students inspire me on a daily basis," Taber said. "They have helped me to become a better teacher and a better person.
"I enjoy teaching them. They make my job fun."
Most Recent Comment(s):