Meal Routes Spread Thin In West Oahu

Wednesday - July 12, 2006
By
.(JavaScript must be enabled to view this email address)
E-mail this story | Print this page | Comments (0) | Archive | RSS
|
Share

Del.icio.us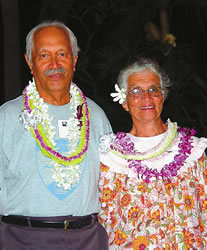 Albert and Betty Prestidge, honored here
by Campbell Estate, are among the
dwindling number of dedicated
volunteers who bring food and company
to ailing, house-bound elders in West
Oahu. Photo from Remy Rueda.
So many meals, and so few to deliver them. That's the theme of Lanakila Meals on Wheels (LMOW) in 2006, but the agency recently added a partnership with Tesoro and an online sandwich business to support its home delivery of more than 1,000 meals each weekday to Oahu's hungry and fragile senior citizens.
"We are steadily losing our precious volunteers due to increased gas prices and the high cost of living," said Eric Batalon, volunteer coordinator."We are in desperate need of volunteers."
Albert and Betty Prestidge answered the call 10 years ago when Albert retired. Each Monday he and his wife bring five frozen meals to each of 15 households in Kapolei, Makakilo and Honokai Hale. The couple lives in Kalihi but were honored at the 2006 KOA awards for their efforts in the community.
"He was a mail carrier all his life, and a paper boy before that,"said Betty Prestidge. "But he started doing this and he loves it." The couple often stop to chat with clients, many of whom live alone.
Remy Rueda of Ewa Beach has found her calling as the director of LMOW - a job she likes because it's so easy to measure success.(She also delivers meals on her way home from work to those who weren't home when the first delivery arrived.)
"Around 1 p.m., you're going to know that 1,000 seniors for sure are eating on this island," she said. "You don't have to guess."
But cars need fuel to bring nutritious food fuel to needy clients.
"We recognized the need for teaming with a gas company, and Tesoro answered that need," Rueda said. The company, based in Campbell Industrial Park, recently gave $2,500 worth of gas fuel cards and other funds to the program (and $2,500 to the separate but similar agency, Hawaii Meals on Wheels)."Now we can offer more meals because we don't have to buy the gas!"
Lanakila also won an entrepreneurial grant to create a sandwich business. Xpress Chef already sells through Times and other supermarkets and is developing online orders, Rueda said, with all profits going to LMOW. "Our goal is $200,000 to $300,000, but this is our first year, so we don't expect to raise it all."
Meanwhile, the heart of the mission is in the people who knock on doors at mid-day. They also look out for other needs that clients may have.
"Some of them don't have any food until I put our meals in the ice box for them," said volunteer Manuel Smith, who delivers two routes each week. "I didn't realize a lot of them don't see anybody all day, so I stay and talk story a little bit."
To sign up for a route,call Batalon at 531-0555.
"We would not have a problem if people only knew how simple it was to help a hungry senior,"he said.
Most Recent Comment(s):