Media Class Churns Out Churns Out
Wednesday - May 09, 2007
By Lisa Asato
E-mail this story | Print this page | Comments (0) | Archive | RSS
|
Share

Del.icio.us

Daryl Madela's graphics team (front, from left) Daryl Madela
Jr., Pualeinani Pedrina, Megan Armstrong, Chaleesa
Abrazado, (middle) Daris Richardson, Jeremy Armstrong,
Royce Cummings, Devra Purkiss, Mr. Daryl Madela,
Brandee Medeiros, Alana Marquez, Carly Vidinha, (back)
Mychal Banis, Randy Salazar, Ms. Lisa Gonzales and
Phoebe Ebanez. Photo from the team.
A team of students from Kapolei High School's Graphics Media Academy competed in a national competition on the mainland recently and came home winners.
"This was our first time going so we were quite surprised how well we did," said graphics media teacher Daryl Madela, adding that the surprise was even greater because not knowing what to expect, the group didn't even practice.
Locally, Kapolei High students are among the finalists in the HMSA Teen Video Awards, which will announce its winners at a private function May 17 at Ward Theatres.
Madela led 14 students and four advisers to the March 7-10 Student Television Network Video Competition at the Disneyland Hotel in Anaheim, Calif.
"There were about 2,000 students, and they came from all over the U.S.," Madela said. Despite numerous competitors, including veterans, Kapolei brought home trophies in two categories: junior Randy Salazar won first place in television graphics, and seniors Chaleesa Abrazado and Mychal "Kawika" Banis won third in stand-up video.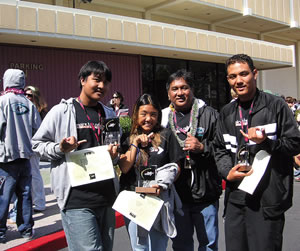 Student Television Network
competition winners from
Kapolei High School's
Graphics Academy (from left)
Randy Salazar who took first
place for Graphics Design,
and the winners of the Stand-
Up Reporting category,
Chaleesa Abrazado and
Mychal Banis, flanking Daryl
Madela. Photo courtesy of the
Kapolei High School
Graphics Academy.
The academy has participated in local contests before, producing work such as public service announcements, but the bar was raised on the national level, Madela said, and students saw firsthand "what good work is."
"When you see the mainland schools, they're in suits and ties or business attire, it's totally different from what we do here at Kapolei," he said."My students said,'We really gotta step up the game.'
"In the past we tried to be funny so people like to watch (our productions), but sometimes funny is not right ... you have to be more professional and get the message out," he added.
Now in its third year, the academy for juniors and seniors will split into two academies next year to handle demand. "This is one of the most popular programs in campus," Madela said, adding that the separate programs will accommodate 180 students in the video-focused Academy of Creative Media and another 180 students in the Graphics Academy, which will focus on desktop publishing.
Nicknamed "Hurricane Watch," the academy teaches everything from video production to producing invitations, banners, brochures and magazine ads.
Madela, a Damien alumnus who lives in Makakilo, said the three juniors on this year's team will return next year."This will be an annual trip," he said.
Most Recent Comment(s):