Middle School Makes Middle Age, Turns 50
Wednesday - April 14, 2010
By
.(JavaScript must be enabled to view this email address)
E-mail this story | Print this page | Comments (0) | Archive | RSS
|
Share

Del.icio.us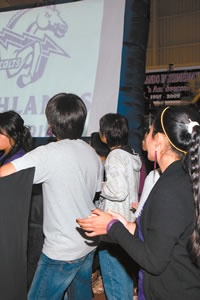 Highlands Intermediate student body council members (above) reveal their new mascot, The Colts, to their peers March 11 during the school's golden anniversary celebration.
Time sure does fly! Highlands Intermediate School celebrated its 50th anniversary last month with a special assembly in Pearl City District Park gymnasium.
A slide show kicked things off, tracing the school's story from 1959 to its present form. Following a proclamation by state Sen. David Ige, former principals, guests and current teachers and students enjoyed entertainment by alumni Rylan Tokioka on ukulele and singer Sean Naauao, as well as Highlands' hula halau and a duet from "Highlands Idol" winners Tialei Tautalatasi and Danielle Sarajina. Activity coordinator Eric White of Go Jimmy Go fame also joined the school's jazz band on saxophone.
But the highlight was opening the HIS time capsule, which was buried in 1985 in the parking lot by the flag pole. Its contents included a yearbook, magazines, styles from the decade (T-shirts, gym shorts) a guestbook from a dinner, and letters addressed to students who would one day unearth the capsule.
"There was buried in a separate box what I think is a cassette tape," said White noting that, unfortunately, no cassette player was included. "It really got damaged. We need CSI on that one."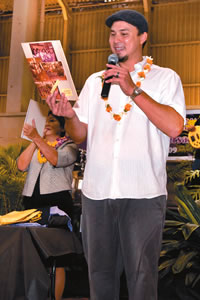 Activities coordinator and Highlands alumnus Eric White (left) checks out some retro photos - dating back all the way to 1985 - uncovered in the school's time capsule. Students collected items from this century to put in a new capsule, on display now at the school library. Photos by Leah Ball,

.(JavaScript must be enabled to view this email address)

.
A new time capsule, White added, will be on display in the school library instead of being hidden underground so future students can look at and ponder the items.
Also marking a new chapter at the school was the first public performance by its first-ever lion dance club. Students performed a routine they had learned just for the occasion.
Closing out the celebration, a new, student-created school mascot and logo were unveiled.
"They (the student committee) researched past mas-cots, took suggestions from the students and narrowed it down to the top five," White explained.
"They put it to a vote to the students, who wanted The Colts.
"The high school mascot is The Chargers horse. A colt is a young charger, with a lightning bolt across his chest. We are now the Highlands Intermediate School Colts."
Students were treated to a dance, mobile games, tribal tattoos, face and body paint, as well as pizza and Jamba Juice afterward.
Most Recent Comment(s):