MOMS Club Is A Network Of Support

Wednesday - April 18, 2007
By
.(JavaScript must be enabled to view this email address)
E-mail this story | Print this page | Comments (0) | Archive | RSS
|
Share

Del.icio.us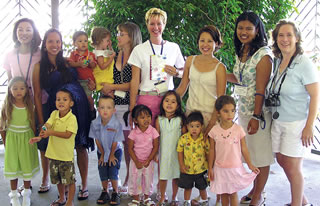 Leeward MOMS' Club members at their annual Easter Party
April 6. From left (back) are Judy Beasley, Aileen and Brody
Meyers, Maggie and Tracey Kelleher, JoEllen Windsor, Tara
Nguyen-Ede, Jasmine Argel, Michelle Kemp, (front) Hailey
Morgheim, JT Meyers, Chance Kelleher, Abigail Argel, Caytre
and Kiennan Ede and Jessica Beasley. Photo from JoEllen
Windsor.
The Leeward MOMS Club welcomes stay-at-home moms looking for support and a new group of friends.
The club, which has approximately 83 members, is an international non-profit organization that not only allows mothers to build new relationships with fellow moms, but also allows children to play and make friends.
"Our calendar has something going on every day," said Leeward MOMS president JoEllen Windsor. "We have different play groups, field trips, beach days, a keiki birthday club, parties. At our Easter party we had like 86 parents and children attend."
Within the club are various activity groups that bring together mothers with common interests. Some of the special interest groups are strollercise, crafting, recipe club and more.
In addition to the various planned activities, the club also meets once a month at Asing Recreation Center in Ewa Beach. Those interested in joining the club are welcome to attend their meeting scheduled for 10 a.m. on the first Friday of each month.
The club also engages in a number of community service projects. One of their current projects is selling cookbooks for $10 each to benefit the International MOMS Club Mother-to-Mother Fund, which helps moms across the world who are in need.
The Leeward MOMS Club is one of six Oahu chapters, and includes the Kapolei, Ewa Beach, Makakilo and Waianae districts. To join or for more information, visit www.momsclub.org, call Windsor at 674-0187 or e-mail her at .(JavaScript must be enabled to view this email address)
Most Recent Comment(s):