Moms On A Mission: Save Project Grad

Wednesday - March 31, 2010
By
.(JavaScript must be enabled to view this email address)
E-mail this story | Print this page | Comments (0) | Archive | RSS
|
Share

Del.icio.us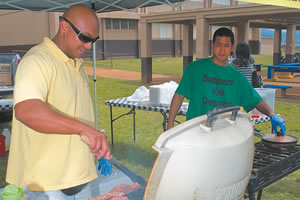 John Soller (left) and Chad Ilaban prepare guava chicken and ribs March 20 at one of Waipahu High Project Grad's many planned fundraisers at the school. Photo by Byron Lee,

.(JavaScript must be enabled to view this email address)

.
A handful of parents at Waipahu High School have their eyes on all 511 seniors, and big plans are in the works for a special graduation day party on May 23.
But they could use a little help from their friends. The Marauders' 2010 Project Grad still has a long way to go, and its tiny committee of dedicated mothers is appealing to all those students and parents who have yet to join the effort.
"We are a small group of ladies, totaling seven, who have worked tirelessly since January to find different types of fundraisers to raise money to send some of our seniors to Project Grad," said co-chairwoman Valerie Hoffman, the mother of a senior."Unfortunately, only about 20 percent of the seniors have attended in the past."Moreover, Hoffman noted, two committee members have children who already graduated, and four others have kids who aren't yet in the senior class - thus giving hundreds of bona fide senior parents the opportunity to lend a hand right now.
The overnight, off-campus celebration will offer plenty of fun and food, but no drugs or alcohol. Student fee is $200, but that is being subsidized by donations and by students' volunteer hours at fundraisers. Hoffman said this is their main goal - to help more students afford to go.
Below are ways to help.
* Attend the Aloha Benefit Concert & Scholarship Fundraiser from 5 to 9 p.m. this Friday in the school gym. The concert also serves as a tribute to past principal Patricia Pederson. With the $10 ticket comes entertainment by Mamaz Boiz and Rebel Souljahz, the WHS Jazz Ensemble, Na Ohana O Ke Anuenue, comedian Da Ko Kettum Kuyz, Lighthouse Little Lite Ministry and Lighthouse Worship Team. Some proceeds, plus profits from a food booth, will go to Project Grad.
* Drive over to the car wash from 9 a.m. to 1 p.m. April 11 at Waipahu McDonald's (94-212 Leoku St.) for $10 per vehicle.
* Bring items to the Aloha Aina Earth Day HI-5 Recycling Drive at 8 a.m. May 1 at the school (306-1876).
* Shop at the Mother's Day Craft & Gift Fair from 9 a.m. to 3 p.m. May 8, or rent a booth there. Vendors are needed, and fees range from $25 to $55. White elephant items also are welcome. Food and entertainment are planned.
* Mail checks to "Waipahu High School Project Grad," c/o Shylo Clark, Waipahu High School Project Grad, P.O. Box 1959, Pearl City, Hi 96782.
For concert tickets, car wash tickets, craft fair details and much more, go to www.waipahuhighschoolprojectgrad.webs.com, or call Hoffman at 228-1909.
Most Recent Comment(s):