New Fire Station Slated For Kapolei

Wednesday - July 28, 2010
By
.(JavaScript must be enabled to view this email address)
E-mail this story | Print this page | Comments (0) | Archive | RSS
|
Share

Del.icio.us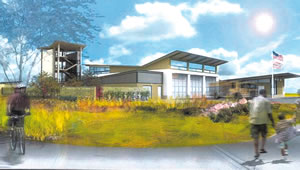 A glimpse of things to come. Above is an artist's rendering of what the East Kapolei Fire Station will look like upon its completion in 2011. Drawing courtesy of Honolulu Fire Department.
When the East Kapolei Fire Station moves into its new location at the vacant lot on Kinoiki Street, nearby residents of Kapolei, the western portion of Ewa Villages, the central portion of Kalaeloa and other surrounding communities will see quicker response times because of Honolulu Fire Department's first regional fire station.
City and state officials broke ground in a special ceremony July 19 on the $10.9 million station, to be built on a two-acre site leased from the neighboring Department of Hawaiian Home Lands, between Kapolei Parkway and Kamokuiki Street.
"(Kapolei) is a large area now that will continue to have a lot of development in the future, and we want to maintain our standard of coverage. In order to do that we need this new station," fire captain Terry Seelig said. "It's a new concept for us, because it's not just a fire station, but a regional station, which will result in a depot for storage of supplies and equipment that could be deployed quickly to that area in the event of a natural or man-made disaster that restricted access to the site."
The new station will house an engine and a ladder company and feature a regional emergency depot, a four-story training tower and a regional tactical training ground. A new tactical training area also will allow nearby HFD companies to participate in training sessions without leaving the vicinity.
"It's a large enough parcel that we're able to include in part of the design some training attributes like the training tower, where we'll have props associated with good simulation training of fire attack, forceful entry, ventilation and the like," Seelig added.
"We'll also have a prop platform that will simulate our operations of disem-barking from helicopters, which will save us a lot of time and money in terms of using the actual helicopter for training.
"We'll still need the helicopter for final training," he added, "but the prop will allow for preliminary and basic training beforehand, which will be unique to the island in general - we don't have that anywhere else."
New positions will be open in engine and ladder companies once the fire station is completed next year.
For more information, visit honolulu.gov/hr/ or honolulu.gov/hfd/.
Most Recent Comment(s):