Nichols Is A Golf Mentor For Keiki
Wednesday - November 14, 2007
By
.(JavaScript must be enabled to view this email address)
E-mail this story | Print this page | Comments (0) | Archive | RSS
|
Share

Del.icio.us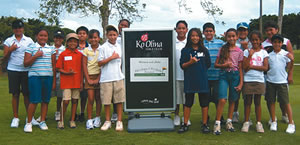 Keiki proteges on their first day in the Hookipa I Pookela golf program. Photo courtesy of the golf club.
Greg Nichols, general manager and director of golf for Ko Olina, who believes golf should be fun, is in charge of Hookipa I Pookela, a children's program at Ko Olina that mentors Nanakuli keiki.
"I've always enjoyed teaching children the game of golf," Nichols said. "For the most part, kids don't take themselves or their golf games all that seriously and are just trying to have some fun."
As a PGA professional, Nichols said he believes it's a privilege to teach golf. "We want golf to be a game for a lifetime and it helps if it's fun."
He noted that junior golf also provides PGA pros the opportunity to give something back to the game.
"Many of us got into the game because a professional or an adult took the time to help us learn to play and enjoy the game," he explained. "It's really rewarding to provide that experience for a new generation of golfers. On a more personal note, teaching children and watching them play the game allows me the chance to reconnect to the joy that I felt playing the game as a youngster. As adults we sometimes complicate things, and it's always refreshing to remember that golf is just a game."
Nichols also pointed out that children can gain life lessons from golf, such as integrity, honesty and consideration for others.
"Golf is different from other sports in that the game for the most part is played without the supervision of referees or umpires," said Nichols. "So the game relies on the integrity of the individual to show consideration for other players and to abide by the rules. That is the true spirit of the game.
An example would be a player calling a penalty on himself for his ball moving accidentally, even if no one else saw it happen. This just doesn't happen in other sports. Unfortunately, in other sports, sometimes children are even taught that breaking the rules is O.K. as long as you're not caught.
"This is not the kind of message we want to send to a child. Golf is all about integrity."
Golf also teaches patience, perseverance and dealing with adversity, he added.
"Perseverance is probably the single most important quality a child must learn to succeed in golf," he explained. "Children learn to deal with adversity better through the experience of finding themselves in difficult places on the golf course or in a tough place in a match and then learning to extricate themselves successfully."
The Ko Olina Golf Club hosts a VIP preview fall sale and auction Thursday before opening the sale to the public on Friday, with all proceeds going to Hookipa I Pookela.
For more information on the program, call 676-5300 or e-mail Nichols at .(JavaScript must be enabled to view this email address)
Most Recent Comment(s):