Offering A New Lease On Learning

Wednesday - October 22, 2008
By
.(JavaScript must be enabled to view this email address)
E-mail this story | Print this page | Comments (0) | Archive | RSS
|
Share

Del.icio.us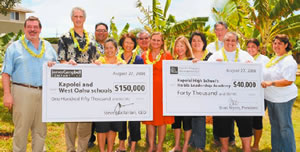 (from left) Dave Rae, Brad Myers, Darin Pilialoha, Rowena Martinez, Annette Nishikawa, Mike Miyamura, Shelley Rerrara, Claudia Nakachi, Sheri Yoshida, Al Nagasako, Joan Lewis, Sage Ferreira and Moani Nahaulu-Mahelona welcome Kapolei Property Development's donation to Kapolei High School's Ho'ola Leadership Academy as well as an additional $150,000 donation to West Oahu schools from the James Campbell Company. Photo courtesy Kapolei Property Development.
With the help of a generous $60,000 donation from Kapolei Property Development, 250 Kapolei High School students are now enrolled in Hawaii's first educational effort that uses Hawaiian cultural practices to help students reach academic success.
The donation will help the program known as Ho'ola Leadership Academy with transportation, supplies and technology.
"The money is really to start the first year," said Al Nagasako, Kapolei High principal."We're going to need to look for other grants to support this. I'm sure there will be other needs that crop up, and to hire more teachers is always a cost."
Located on the Kapolei High campus, Ho'ola Leadership Academy develops leadership potential in students with highly individual and unconventional learning styles. Curriculum is modified for students in grades 9 through 12 and focuses on the pursuit of personal excellence and the ability to be self-sustaining and self-determining in the broader community.
"The goal is to get the kids engaged in school and teach kids to gain basic self-knowledge of their skills and what their strengths are," added Nagasako. "These are kids that have really struggled in traditional schools."
A lo'i (taro patch) is being cultivated, and students spend many classroom hours doing hands-on applied learning through field trips and excursions. The program also plans to undertake a fundraising campaign.
For those interested in supporting Ho'ola Leadership Academy, call 692-8200.
Most Recent Comment(s):