Ohana Shows Its Care For Makua Beach

Wednesday - September 10, 2008
By
.(JavaScript must be enabled to view this email address)
E-mail this story | Print this page | Comments (0) | Archive | RSS
|
Share

Del.icio.us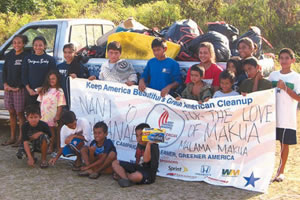 The Memorial Day family affair even got the littlest members involved. (front row, from left) Adam Stone, Alohi Gilman, Lewa Emmsley, Kawika Kane, (back) Kawelina Gilman, Alyssa Kane, Makana Gilman, Anolani Kane, Colton Salvador, Tyler Stone, Wahieloa Emmsley, Kaena Gilman, Alaka'i Gilman, Anuhea Kane, Ashley, Kukea Emmsley and Pohai Duarte. Photo from Natasha Lyn Napua Baldauf.
While most families across Oahu cleared their schedules to enjoy a lazy Memorial Day weekend, Kapolei's Kane and Emmsley clans as well as Waianae's Stone and Ledward ohanas joined up with their extended kin from Laie and Kailua to clear trash from Makua Beach.
"Although all of us involved in the cleanup were from all around Oahu, we have a special connection to Makua Beach," explained Natasha Baldauf, a recent college graduate from Kapolei. "Personally, I hear a lot about Makua in the news, and it saddens me that a place so beautiful and culturally vital to the Hawaiian community is greatly inaccessible."
Baldauf elaborated that the tradition to hold a family gathering at the beach started a few years ago. This year, she said, "We decided we would use the opportunity of gathering to give back to the place as well."
With clean-up supplies in hand, everyone got down to work along the Leeward coast. Even a curious monk seal took a break from his holiday swim to see what all the commotion was about back on shore.
Helping make the task easier was Helga Ledward of Nani 'O Wai'anae. Ledward led groups to some of the more littered areas of the beach and also supplied boxes of trash bags and gloves, courtesy of the nonprofit organization.
Baldauf says they combed the beach and came across a multitude of items, both big and small. There were broken Boogie boards and futons, shards of broken glass and nubs of cigarettes. She says there even was trash that had been stuffed into grocery bags, but after spending weeks on the beach, the bags were torn open and the trash was erupting from the cavities.
"We were able to collect more than 25 trash bags full of 'opala and transport it out to the main road for pickup by the state," Baldauf recalled. "It is sad and unacceptable that other visitors to this area leave their trash behind as if it is someone else's job to take care of.
"The beach is for everyone to enjoy, but not if it is littered with glass in the sand and dirty diapers in the bushes."
Despite spending hours heaving and hauling debris out in the hot, early-summer sun, Baldauf says everyone had a blast and looks forward to arranging more activities for next year.
"Our family got together to enjoy this beautiful beach and intended to leave this treasured place in better condition than when we found it," stated Baldauf. "Sometimes all you need is a box of trash bags, some gloves and some of your own 'ohana to make a difference in your community."
Others looking to get involved and become part of the Nani 'O Waianae ohana may contact the organization at .(JavaScript must be enabled to view this email address) or call 696-1920.
Most Recent Comment(s):