Ornaments Help Honor Loved Ones

Wednesday - December 01, 2010
By
.(JavaScript must be enabled to view this email address)
E-mail this story | Print this page | Comments (0) | Archive | RSS
|
Share

Del.icio.us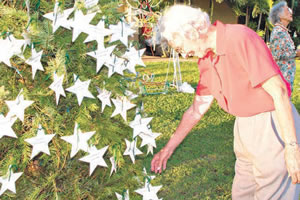 Kay Kramer finds the star dedicated to her late husband on one of three trees on St. Francis Hospice Maurice J. Sullivan Family Hospice Center's front lawn at last year's 'Light Up a Memory' service. This year's tree-lighting ceremony takes place Dec. 10 at the Ewa Beach center, and requests for stars are still being accepted. Photo courtesy of St. Francis Healthcare Systems of Hawaii.
The holidays are about spending time with loved ones, but for those who have lost a relative or friend, St. Francis Hospice is providing a way to honor that special someone.
The tree-lighting memorial service "Light Up a Memory" is happening Dec.10 at St.Francis Hospice's Maurice J.Sullivan Family Hospice Center in Ewa Beach (91-2127 Fort Weaver Road). One of the special features of the service is that individuals can have a star bearing the name of their loved one hung on one of three Christmas trees at the center. Requests for stars can be made by sending a donation and the name of the person to be remembered to St. Francis Hospice, 2251 Mahalo St., Honolulu HI 96817.
The hospice center's 13th annual tree-lighting festival kicks off at 5:30 p.m. with a performance by hula halau Naleo Nahenahe Ona Kupuna, and a blessing of the trees at 6. Refreshments and more entertainment from "the lively senior citizens group" Naleo are set to follow.
"People may also bring their requests for stars that evening," said St. Francis Hospice development and communication director Cheryl Tamura. "A star doesn't have to be for a St. Francis Hospice patient - it is for anyone who has passed away. It is a way to remember a loved one and support St. Francis Hospice."
All donations will go toward assisting terminally ill patients and their families with hospice care and bereavement services.
For more information, call 547-8134.
Tamura added that holidays are a particularly difficult time for individuals dealing with loss. St. Francis Hospice offers several tips for helping those who are grieving:
* Ask how the person is doing and lend them an ear, even if you don't know what to say in return
* Offer to help with chores and errands
* Invite the person to your home for the holidays and help them with their holiday traditions, or start new ones.
Most Recent Comment(s):