PACK Puts Hip Spin On A Carroll Classic

Wednesday - October 20, 2010
By
.(JavaScript must be enabled to view this email address)
E-mail this story | Print this page | Comments (0) | Archive | RSS
|
Share

Del.icio.us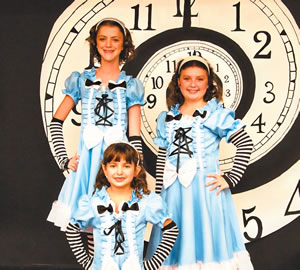 Actresses (from left) Hannah Williams, Alyse Glaser and Marlo Nettel play Alice in all her sizes in the Performing Arts Center of Kapolei's rendition of 'Alice in Wonderland Jr.' premiering tomorrow (Oct. 21) at the Kapolei High School Forum. Photo courtesy of PACK.
Not only do classics never die, but they often morph into contemporary works that appeal to modern youths. Such is the case this month as the Performing Arts Center of Kapolei presents Alice in Wonderland Jr. to theater lovers of all ages on Oct. 21-23 and 28-30 at the Kapolei High School Forum (91-5007 Kapolei Pkwy.).
In the performance,Alice falls through the expected rabbit hole into a topsy-turvy world, encountering quirky characters from the White Rabbit to a dodo bird and the Mad Hatter. But in this adaptation, Alice also jams to a rapping session with the bubble-blowing Caterpillar.
"This production is a junior version, which means it's shorter than a traditional production,"added Kari Nettel, a volunteer mom with PACK whose 11-year-old daughter, Marlo, stars in the title role and 14-year-old son, Douglas, plays Tweedle Dee.
A hybridized version of both of Lewis Carroll's original novels about Alice and the 1951 Disney film, the musical runs about 75 minutes, including intermission, and features 15 numbers that highlight the song and dance talents of 36 students ages 7 to 17.
Alice is directed by Meagan Olson with what Nettel describes as "an extremely witty and smart" script and a set and costumes that are inspired by anime characters and cosplay, or "costume play," which is live performance themed around anime art.
Angela Morales is the vocal director with choreography by Hannah Olson.
Tickets cost $3 on Family Night Thursdays, where folks are welcome to bring their own mats and enjoy a family-style picnic at the 6:30 p.m. show. Friday and Saturday shows start at 7 p.m. and cost $6. For reservations, e-mail .(JavaScript must be enabled to view this email address) or call 224-5314.
Tickets also are available at the door on the day of the show. For more information, visit packapolei.org.
Most Recent Comment(s):