Palisades To Fill Bowls For Foodbank

Wednesday - November 18, 2009
By
.(JavaScript must be enabled to view this email address)
E-mail this story | Print this page | Comments (0) | Archive | RSS
|
Share

Del.icio.us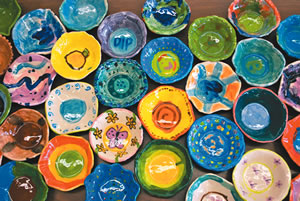 The public has its pick of any of these student-crafted bowls Thursday night during Palisades Elementary School's first-ever Empty Bowls community service event for the Hawaii Foodbank. Photo courtesy of Palisades Elementary PTO.
There's nothing quite like a hearty bowl of soup to warm the soul; heck, they even made a whole book series about the stuff.
In recognition of the healing powers of a good bowl of soup, Palisades Elementary School will hold a first-ever Empty Bowls community service event Thursday night (Nov. 19) in the school cafeteria.
"We are the first school in Hawaii to have this kind of community service project," said Leilani Rasa, Palisades PTO member. "Our president (Bel Adcock) wanted to try something different; she wanted to extend our reach out to the community, since it's close to Thanksgiving."
Community volunteers got the ball rolling, so to speak, in early September by forming and cutting clay into individual circles. Later in the month students and their families created clay bowls, which were painted, glazed and fired in October.
"Some of them (the students) had trouble making their bowls because this was their first time working with clay. But they enjoyed it because it's family time, about two-hours worth, sitting and creating something special," Rasa said. "They had a chance to sit, think and create bowls for other families during this holiday time."
"We also hope to increase awareness of hunger and related issues and to advocate for arts education by giving students an opportunity to bring about lasting and positive change through art," added fellow PTO member Kelli Kunihiro.
For a $10 donation, folks get to pick out one of the many unique, student-made ceramic bowls and enjoy a meal of Portuguese bean soup, corn chowder and bread donated by Costco. All proceeds from the night will be donated to Hawaii Foodbank.
Soup service begins at 6 p.m., with a silent auction of bowls made by Palisades teachers and staff to follow.
For more information, contact the school at 453-6550, ext. 240.
Most Recent Comment(s):