PCHS Makes Music On The Great Wall
Wednesday - August 01, 2007
By
.(JavaScript must be enabled to view this email address)
E-mail this story | Print this page | Comments (0) | Archive | RSS
|
Share

Del.icio.us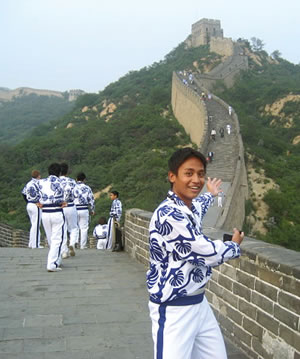 Ronald Susa, a tenor saxophone player with the Pearl City High School band, points out the path and tower on the Great Wall that his fellow musicians "walked, ran, jogged and even crawled to" during the band's trip to perform in the Beijing Olympic International Youth Festival. Photo from Ronald Susa.
Pearl City High School band director Chad Kamei returned from China July 18 with his students after performing in the Beijing Olympic International Youth Festival 2008 (an event leading up to next year's Olympics).
"It was a wonderful experience for the students," Kamei exclaimed.
More than 1,500 students from around the world attended and participated in a number of cultural events. They watched an acrobatic show, visited the Temple of Heaven where emperors of the Ming and Qing dynasties worshipped, and explored Beijing's Forbidden City. They also attended a welcome banquet by the Beijing Olympic Committee, in addition to performing at the Olympic Cultural Square.
Manana resident Roland Susa, who has been playing tenor saxophone since seventh grade, said the best part of the trip was playing in the Mass Band, which consisted of players from around the world.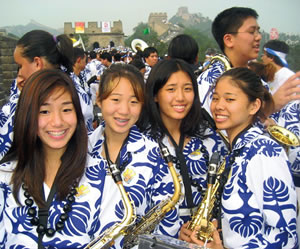 Pearl City High School band members Candace Sakamoto, Traci Oba, Raena Woo and Shea Momohara played their alto saxophones on the Great Wall. Photo from Ronald Susa.
"Each band sent up a select few to represent the band as well their country," said Susa, who enters his junior year in the fall. "I was one of the select few from the PCHS band. We played an Olympic Celebration, a song composed of various Olympic themes. We played it at Wangfujing Street July 13. It was amazing that even with all the different cultures and languages, music brought us all together. Music was the language everyone there knew and understood. Playing it together was amazing - it felt as though all the turmoil going on around the world did not exist."
Another highlight of the trip was performing on Great Wall of China. Susa described the experience as "mind blowing."
"When we stood in just one section of the wall you can see it going on for miles and miles, making it look as though it would never end," Susa recalled."We had a Japanese band near us, so we got to play a few songs with them. We played the FSU Tomahawk chant/song, the Hey Song, and the USC Trojan March. We also did a giant wave on the wall with their band."
After the Great Wall experience, the students visited the 2008 Olympic Stadium and Tiananmen Square. The trip also included visits to the city of Tianjin and some digital camera moments with the panda bears in the Beijing Zoo.
Most Recent Comment(s):