Pearl City Resident Has Heart Of Gold

Wednesday - February 06, 2008
By
.(JavaScript must be enabled to view this email address)
E-mail this story | Print this page | Comments (0) | Archive | RSS
|
Share

Del.icio.us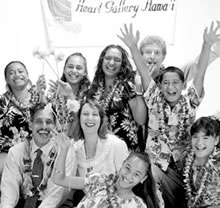 Heart Galley Hawaii co-founders and supporters (front, from left) Lt. Gov. Duke Aiona, state Department of Human Services director Lillian Koller and (back, right) family court Judge R. Mark Browning strike a pose with newly adopted keiki during National Adoption Day. Photo by Heidi Anderson Keiki Photography.
In November 2007, the state of Hawaii was awarded an Adoption Excellence Award from the federal government for the progress made in promoting and increasing adoptions in Hawaii by 400 percent.
To acknowledge the many private and public sectors as well as community members who joined forces with the state to help find permanent homes for the 2,400 local keiki in foster care each year, a special program was held last month in the Governor's Ceremony Room.
Among those working to make a change is Heart Gallery Hawaii. Founder and director David Louis said the main objective of the organization is to use photography to bring out the spirit and individuality of each child in order to inspire adoption.
"Heart Gallery Hawaii is about hope, love and bringing families together,"said the Pearl City resident. "Heart Gallery exhibits feature children who want adoptive homes, especially older youths (ages 10-18), sibling groups and those with disabilities. Very often, those groups of youths are forgotten and forced to 'age out'of the system with no hope for a chance to have a family."
As a non-profit, community-based initiative, Heart Gallery Hawaii holds exhibits at art galleries, museums and other local venues, displaying insightful and fun-loving portraits of children ready for adoption. Professional photographers volunteer their time and talent to take these portraits to raise awareness, gather community support and provide opportunities for foster children, all in hopes of providing them with "lifelong family relationships."
Louis stated that many children in foster care have suffered abuse at some point in their lives; more often than not, the abusers leave bruises on the child's self-esteem.
"It's very hard to convey how difficult these youths'lives are,not having a family to support, encourage and train them into adulthood," Louis explained. "I have seen so many broken and empty hearts as well as hurt and angry faces of children who feel or know they were left behind."
Louis admitted that helping children can be an overwhelming and complex task, but he believes that with the work of many hands, these children will be given a place to call home and loved ones to call family.
"I would say Heart Gallery is responsible for 40 percent to 60 percent of all new families learning of the need and beginning the process to adopt," said Louis. However, he added there are still between 200 and 300 foster children in Hawaii available for adoption today. And although there is a need to find homes for these foster children, he said the youths featured in Heart Gallery Hawaii portraits "are empowered by the sense of community service, that their photos may inspire a family to step forward and adopt.
"These children are no longer in the shadows while waiting for a family - they are now in galleries and art museums, surrounded by hundreds of volunteers that care about their needs."
For more information on HGH and its upcoming events, contact David Louis at 295-1929 or visit www.heartgalleryhawaii.com
Most Recent Comment(s):