Pearl Ridge Students Net State Insect
Wednesday - June 03, 2009
By Kerry Miller
E-mail this story | Print this page | Comments (0) | Archive | RSS
|
Share

Del.icio.us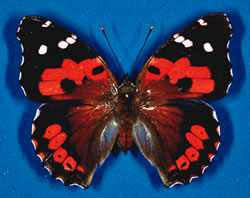 Meet Hawaii's official state insect, the Kamehameha butterfly.
The Kamehameha butterfly is one of two species of butterfly native to Hawaii, and thanks to six Pearlridge Elementary School fifth-graders, it is now our official state insect.
After Rep. Blake Oshiro (District 33-Aiea, Halawa, Red Hill) and Sen. David Ige spoke to the class about how a bill gets passed last year, Gifted and Talented program teacher Laura Brown decided to have some of her students go through the process for real.
"The overall fifth-grade curriculum requires study of the ecosystem," she explained. "In November the Legislature came for its back-to-school program and talked to all the fifth-graders about the legislative process and how a bill gets passed. We just combined the two."
Students Robyn-Ashley Amano, Ryan Asuka, Kristi Kimura, Jennifer Loui, Toshiro Yanai and Jenna Yanke started their project by doing extensive research on the butterfly and then wrote letters to legislators in support of the bill expressing their reasons for why the butterfly should be Hawaii's state insect.
Kristi Kimura wrote: "When the Kamehameha butterfly becomes the state insect, people will respect it more. Then it would not be endangered. People might recognize it more and want to discover Hawaii's history."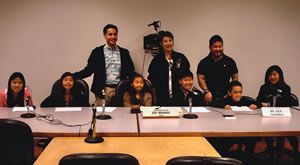 Pearl Ridge Elementary School fifth-graders (from left) Kristi Kimura, Jenna Yanke, Jennifer Loui, Alexander Wong, Toshiro Yanai and Robyn-Ashley Amano take a seat at the state Legislature with Reps. Joey Manahan, Barbara C. Marumoto and Blake Oshiro. Photos from Laura Brown.
"Other people may think that the happy-faced spider would be a good choice for the state insect," Toshiro Yanai penned. "However, two-thirds of happy-faced spiders don't have happy faces. Also, not many people like spiders because it scares them."
Oshiro helped introduce their bill, titled House Bill 135, and students testified in front of the House Tourism Committee, with Rep. Joey Manahan serving as chair. Gov. Linda Lingle signed House Bill 135 on April 23, making Hawaii the 44th state to have a state insect.
"This bill is a great example of how anyone can participate in the process, get their voices heard and affect policy," Oshiro stated.
"They were very proud of what they did, but they were saying that it's such a long process, they didn't realize it took so long to get a bill passed.
"They still had fun with it," added Brown, who said that the proceedings were also televised on 'Olelo Community Television.
Named after King Kamehameha, the Kamehameha butterfly is known by many names - its Hawaiian name is Pulelehua and it was formerly known as the Vanessa tameamea.
It is a member of the Lepidoptera order and can be seen flying around koa trees in the winter.
Most Recent Comment(s):