Pinney Bases Book On Life In Hawaii
Wednesday - January 28, 2009
By
.(JavaScript must be enabled to view this email address)
E-mail this story | Print this page | Comments (0) | Archive | RSS
|
Share

Del.icio.us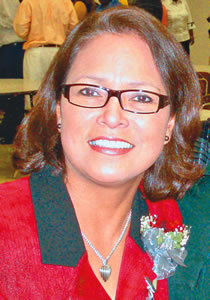 Waipahu High alum Teri Pinney returns to Oahu this week for a special lecture series and one-on-one meet-and-greet with students at Chaminade University. Photo courtesy of Teri Pinney.
Teri Pinney returns to her home state of Hawaii to promote her book The Missing Heart: Chronicles of an Educator.
The former Pearl City resident will lecture to several classes at Chaminade University today (Jan. 28) as well as speak with students one-on-one at the Sullivan Library at 11:30 a.m.
The Missing Heart is a fictional book based on Pinney's actual experiences as a high school teacher and assistant principal. She explained that some parts were creatively enhanced, although most of the story is about her real life growing up in Hawaii and achieving her dream of becoming a teacher.
In the book, she shares her conflict over the policies and practices in the school system after the No Child Left Behind legislation was enforced that turned her into a skeptic and eventually led her to give up her career as an educator after 20 years.
"I felt something was wrong with the way we were pushing (students) so much to perform in test scores for school," Pinney said."Schools are criticized for being poor. The kids can't read, the kids can't write, they are labeled and categorized as a good school or a bad school.
That's not right.
That's not fair for teachers or for the students."
The 1968 Waipahu High School graduate, who has a master's degree in business administration, works as a professional writer. Her work in the education field continues as she is on a review team that determines if a school maintains its accreditation. She also has a blog and a column in the community newspaper where she lives in Port Sainte Lucie, Fla., with her husband, Steve Pinney. She returns to Hawaii every year to see her friends and family, including her son, Brandon Reid.
Books can be ordered at Amazon.com or on Xlibris.com. Proceeds will go toward her run for her local school board. "My platform is to bring the joy of learning and the passion of teaching back to the schools," she explained.
For more information, log on to themissingheart.com.
Most Recent Comment(s):