Plantation Village Hosts Keiki Day

Wednesday - September 27, 2006
By
.(JavaScript must be enabled to view this email address)
E-mail this story | Print this page | Comments (0) | Archive | RSS
|
Share

Del.icio.us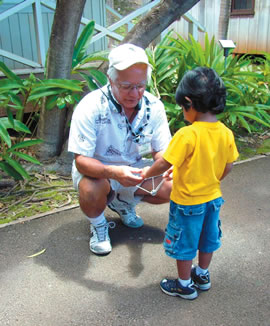 Hawaii's Plantation Village volunteer Gary Tokuda
shows a visiting boy how to play the buzz saw. The
village is gearing up for a day of fun for the keiki
on Oct. 7. Photo by Sandi Yara.
Bring the kids to Hawaii's Plantation Village in Waipahu Oct. 7 for the first-ever "Relive the Plantation Days Keiki Festival."
The free event, happening from 10 a.m. to 2 p.m., will feature everything from games to entertainment and even food sampling. Plantation snacks prepared by the culinary class at Waipahu High School will be available for everyone to enjoy. Some of the delights will be Saloon Pilot crackers with condensed milk, sweet bread with mayonnaise or butter sprinkled with sugar, andagi, banana lumpia, tofu and sushi.
"Our tasting will have snacks that the plantation children enjoyed," said Jo Ann Fakler, program developer at Hawaii Plantation Village. "The Japanese are also having sushi daikon, and the Koreans are having song pang, a mochi rice treat."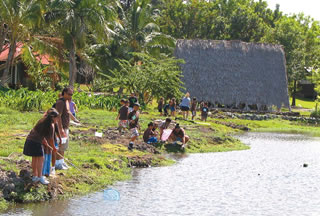 Students get a taste of the plantation days while fishing at
Hawaii's Plantation Village catchand-release fish pond. Photo
courtesy of Hawaii's Plantation Village.
Aside from all the tasty snacks, the festival will have more food for sale, stories for the kids, a hula show, dance performances by Studio 808, balloon art, ethnic arts and crafts, and favorite games of the children in the plantation era.
"We have a lot of games that they played on the plantation, like marbles or little boats that have the rubber bands to make them go faster, and we will be having little boat races," said Fakler. "We'll even have Korean kites, and the kids will be able to make kites and fly them. We have our catch-and-release fish pond, and we'll also have slingshots and rubber-band guns, lei making and poi pounding."
The festival is made possible thanks to a generous donation from the Na Lei Aloha Foundation and sponsorships by the City and County of Honolulu, the Hawaii State Foundation on Culture and the Arts, and the Hawaii Tourism Authority.
For more information about the event, call 677-0110 or visit www.hawaiiplantationvillage.org
Most Recent Comment(s):