Pre-Plus Celebrates New Facility

Wednesday - September 13, 2006
By
.(JavaScript must be enabled to view this email address)
E-mail this story | Print this page | Comments (0) | Archive | RSS
|
Share

Del.icio.us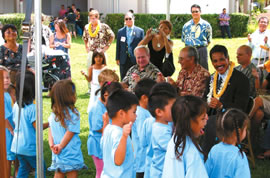 Children from the Pre-Plus program at Kapolei
Elementary entertain a smiling Lt. Gov. Duke Aiona
(right) and fellow attendees at the blessing of the
new facility. Photo courtesy of the state Department
of Human Services.
The Pre-Plus facility that opened recently at Kapolei Elementary School is providing children of disadvantaged households and needy families the opportunity to attend preschool.
Last month Lt. Gov. James "Duke" Aiona Jr. and representatives from the state departments of Human Services, Accounting and General Services, Education and Seagull Schools Inc. joined Pre-Plus students in celebrating the new facility with a blessing ceremony.
"The preschool opened in June, but we had a blessing to welcome it to the community," said Derick Dahilig, DHS public information officer. "They had some speakers to talk about what we are calling first school instead of preschool because this is the first step to education."
Pre-Plus facilities are being built on public elementary campuses, but are operated by private preschool providers, explained Dahilig. The concept is a movement toward understanding preschool no longer as pre-education, but first education.
Pre-Plus is a collaborative effort between the state and private agencies to provide preschool opportunities to children ages 3 and 4, with priority given to those whose family income is at or below 200 percent of the Federal Poverty Level. The level for a family of three is $3,182 a month, and $3,834 for a family of four.
"There's a need for more early childhood education, and the governor and her administration believe that the first five years are critical, and they are pushing to have more of these slots," said Dahilig.
"Pre-Plus is different than other preschools because it's meant for parents with lower income families. We provide a subsidy to help, which varies by family depending on their income."
The preschool campus on the Kapolei Elementary School grounds is one of 15 new Pre-Plus campuses on Oahu. The next Pre-Plus sites to open will be at Ewa Elementary School and Kilauea Elementary School on Kauai.
Parents interested in sending their children to Pre-Plus at Kapolei Elementary School may call 674-1444.
Most Recent Comment(s):